LINKPILE!!
LINKPILE!!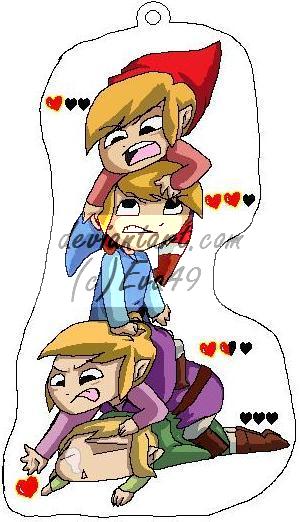 Description
LINKPILE!!!

A Four Swords version of a DogPile.
Idea runned across me when I thought of Legend of Zelda: Four Swords nd of 4 Toon Links Set Up Camp.
Thought it be cute to do, happy I did it too.

Well here we can see that the Links' are in need of a Heart. Which do you fink needs it more?
Blue's in no rush to get it since he has 2 full ones.
Red wants it cuz he only has 1 full one, nd Purple has 2 1/2.
.... But poor Green... he died because he's being squished by Red, Blue, nd Purple! All his Hearts were FULL!!

Red's not just mad that Purple's gonna get that heart... he's also mad because Purple's all up on HIS Green!!

(This may turn into a KeyChain, don't kno yet)
~~~~~~~~~~~~~~~~~~

Four Swords (c) Legend of Zelda/ Nintendo
Art & Designs (c)ME (DO NOT STEAL)
General Info
Comments
6
Media
MS Paint
Time Taken
...
Reference
Four Swords