Illusi & Co.
Illusi & Co.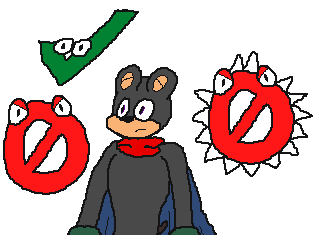 Description
Illusi is a shrew who is also an illusionist. He summons odd creatures from a dimension of illusions fairly frequently. These critters are called Wrongos and Rightos (I'll leave you to figure which is which)

He once used the spiked Wrongo as a chakram when battling Dark Punchy.

Illusi has taken it upon himself to keep an eye on Punchy as he deals with his inner darkness, partially due to mysterious visions he's had related to him.

He was also Fera's adoptive father...who she ended up attracted to. Yeaaaah...

He also orchestrated the Tournament of Chaos this year. He's a busy shrew.
General Info
Comments
0
Media
Unspecified
Time Taken
Reference