We Would Have NOTHING
We Would Have NOTHING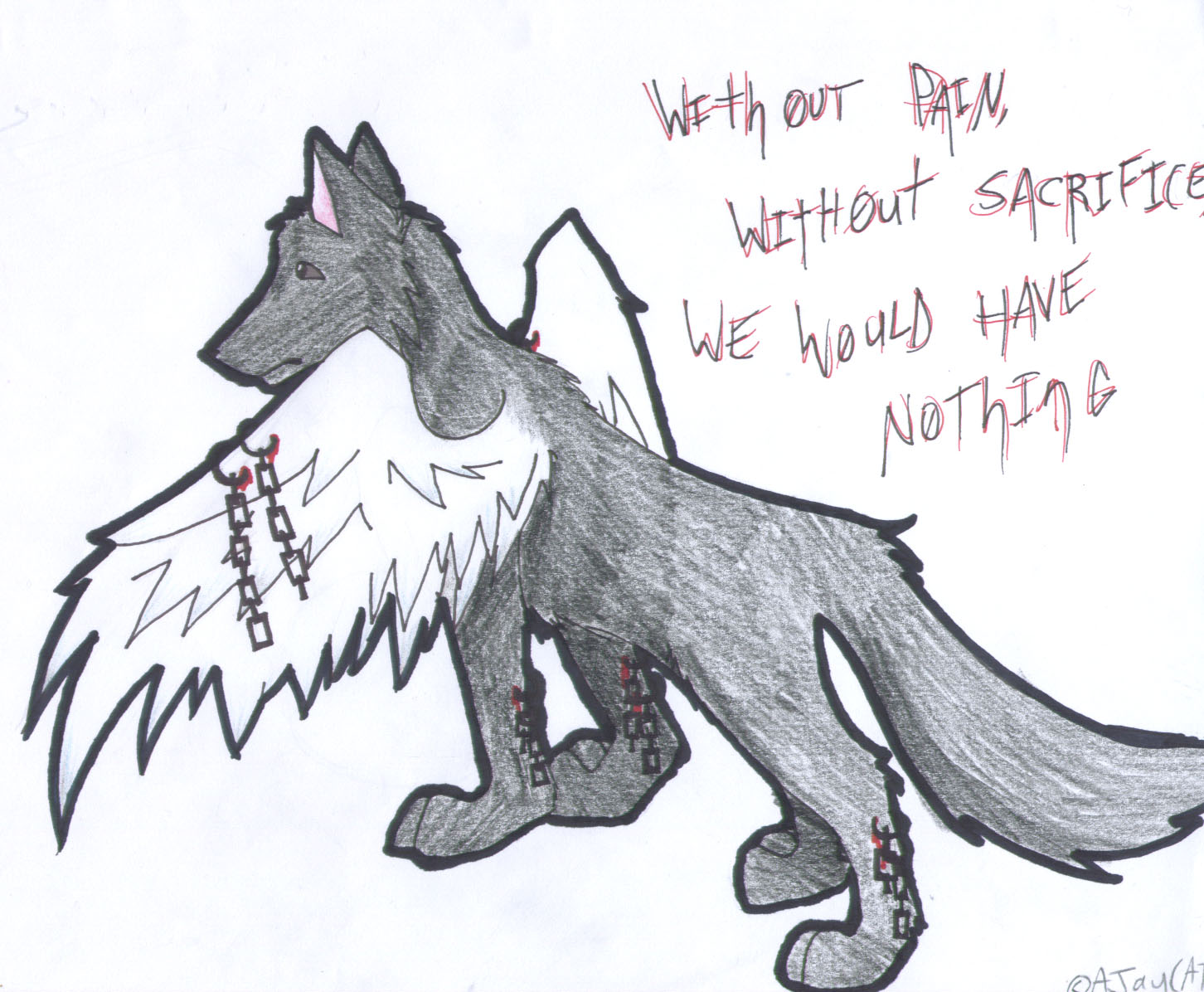 Description
Thi is ThemisNyx or more commonly known at Themyx.
General
Name: ThemisNyx [Dark laws of Nature]
Nickname: Themyx
Gender: Male
Age: Unknown
Height: 3' at the head
Weight: 122 lbs.
Species: one of the last of a rare species, Dark Wolves
Mate: NA
Parents: has no memory
Sibblings: has no memory
Offspring: NA
Appearance
Eyes: Grey, silver around slited pupil
Body: lean, yet musclely
Fur Color: black
Markings: NA
Accesories: two silver hoops in each front leg, three in each back leg, they pierce the bone with small amounts of chain hanging from each hoop. He also has white feathered wings with two hoops in each.
Equipment: NA
Mentality
Personality: quiet, really smart but rarely voices opinion. rather untrusting
Alignment: Neutrel/Good
Quote: NA
Other Profile Info
History: ThemisNyx is a Dark Wolf, one of the last ones found anywhere really, excluding the Underworld. He had originated there, his Spirit born forth from the excess Dark Spiritual energy that gathered in Hell once a creature had died. He, unlike most Dark Wolves, had no blood colored eyes or tribal markings; instead he was gifted with the Sight. He refused to tell anyone about his gift, instead he hid it as much as possible. His name, ThemisNyx, was a combination of the Greek words Themis which means laws of Nature and Nyx, dark and together they give the definition of Dark laws of Nature. Most others usually mispronounced his name so he ended up being dubbed 'Themyx'.
He was born into Hell, but since he possesed feathered white wings and grey eyes, he was beleived to be a spy of Heaven, so he was totured untill his escape. [that's why he has hoops in him]
Magic/Non-magical Skills: He has the Sight, but is unsure of its albilities. He can also summon his wings but they have to burst through the skin of his back to appear.
go RP with me (Kahli) at >>>
http://shinkou.proboards20.com/index.cgi
General Info
Comments
3
Media
Other drawing
Time Taken
Reference