Trundo Tarasenko
Trundo Tarasenko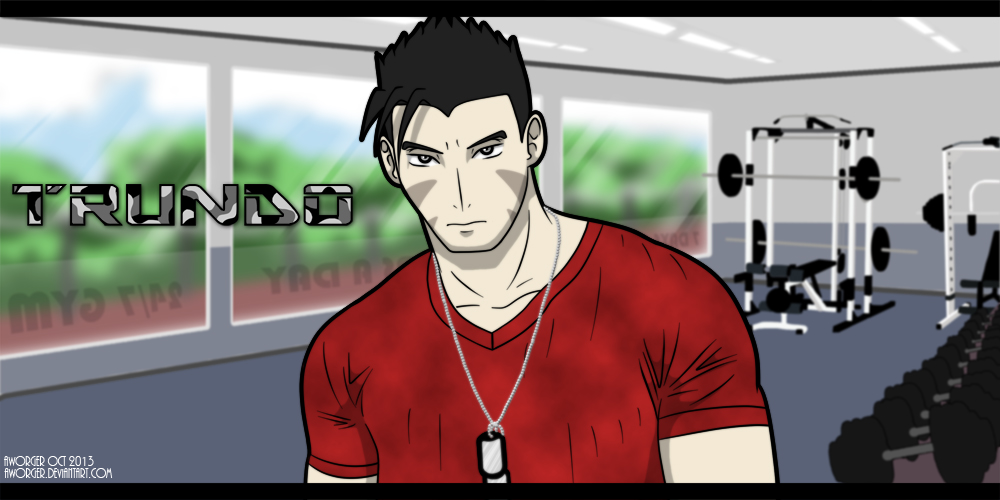 Description
In the beginning, Trundo was the cold heartless character in the series that walked a fine line between friend and foe. Trundo is hard to get along with because of his uncaring and rude nature. It is difficult to earn the respect of this Worgalite as he holds himself in high regards and thinks little of others. Trundo is the strongest Worgalite in the series and only gets rivaled by Zootar, the leading character of the group. Most characters give Trundo a wide birth as they are cautious his rage that gets triggered by insignificant things. He is a muscular looking male that hungers for strength and power. It is not just his muscular physique that intimidates the others; he also has a powerful presence. While most Woralites's presences can only be felt when in close proximity (say the other side of a door), Trundo's can be felt from the moment he steps foot on your driveway. Whereas some presences are hard to distinguish on the other side of a door, you can tell Trundo is on the other side as your hand hesitates to turn the knob. It gives off a sense of hunger that's never sated; it gives you goosebumps.

He grew up with his sister and foster parents till the age of 17. One night he came home from work to find his drunken father beating his mother and sister. This was not the first time Trundo had witnessed his father's violent nature but it was the last time he saw his father draw breath. Trundo was convicted for manslaughter and he was forced to enter the military due to influences high in the ranks that saw his potential. He completed his 4 year military training and continued his sentence in the field as a part of a small squad. His squad was attacked by an unknown enemy and his left arm was critically injured. Trundo was deemed unable to continue his military career as he had lost the use of his arm. They honorably discharged him and signed his sentence as completed.

As soon as he returned to civilian life, he visited Zootar to warn him of a new threat that had arrived on Earth. No one knew the enemy that Trundo en-counted but they knew he would never seek their aid unless he was truly concerned. Zootar requested that Trundo stay at the main house to recuperate. Trundo had nowhere else to go so he agreed to the idea. Much to Trundo's surprise, Sayber Tarasenko was also staying at the house so it gave the two much needed time together. A few months after returning to a civilian life, he regained the use of his arm. Talcom's healing powers and medical experitse made for a powerful recovery. From this moment on he spent more time with the group and his cold heart slowly started to melt. For the first time in his life, he showed consideration for others but most of all, he was fighting to survive for someone other than himself.

This is the new hairstyle I am thinking of cementing in for his design. It goes with the character background more and it keeps some of the old traits from his old hair. I created about 20 different designs but none of them really had me convinced. I need to go find a hair style I like...
General Info
Comments
0
Media
Digital drawing or painting
Time Taken
Reference