Scary Carrie' O_o
Scary Carrie' O_o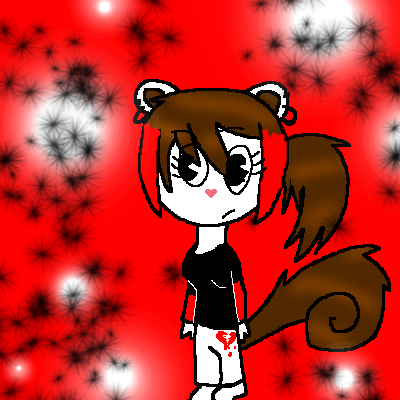 Description
A new HTF OC yet again
And she's scaaaaaaaryyyyyyyyyy...... o_O

Her name is Carrie and she's a squirrel who scares the living jeeberattzies outta meh! She tells very scary horror stories about everything, from "walking in the woods and getting eaten by zombie bears" to "having someone's head explode (or implode) from listening to very loud music". She earned the nickname "Scary Carrie". Also she has three jobs. She works at "Hot Topic", in a fast food restaurant, and in a horror-themed Halloween amusement park as a goth zombie girl in a Haunted House ride. Das a lot of jobs! =O

Bio:

Age: 17-19

Species: squirrel

Gender: Female (girl)

Color of fur and hair: brown hair and tail, white fur, and two of her bangs are dyed red.

Piercings: two black earrings on both ears (four earrings in total) and a pierced belly button (even though you can't see it cuz right now she's wearing a long shirt that's covering it )

Clothes: black shirt with red shirt underneath and white pants with a red broken heart logo

Loves: Champ

Personality: scary, gloomy, goth (but NOT emo), sort of friendly, mysterious, etc.

Likes to: tell stories

Hates: the color orange, scardey-cats who interrupt her story-telling, and girly stuff

Happy Tree Friends (c) Mondo Media
Scary Carrie (c) ME!
General Info
Comments
5
Media
Digital drawing or painting
Time Taken
Dunno...*shrugs*
Reference
New HTF OC