Please be okay...
Please be okay...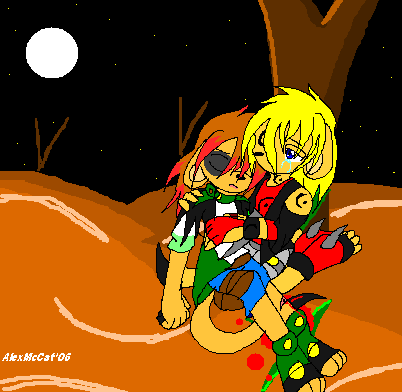 Description
Shakespeare walk through the cold dark desert.His family was asleep and he was the only one awake.He couldn't sleep because his left leg still hurt from getting bitten from that poison snake.The pain still hurts but Shakespeare just have to ignore it the best he can and go on.

Suddenly a meerkat pop out of a tree that Shakespeare pass.He dress in black,red,and gray.Have blonde hair and blue eyes.

"Hey there Shakey-shake."The meerkat said with a grin.

"Huh?"Shakespeare turn around to see the meerkat.He growl at the sight at him."Carlos!"

"The one and only Shakey."Carlos chuckle then he stop but still have that smile."How things going."

"Well if I ignore that my leg hurts to no end and my sister Tosca got in trouble for getting pregnant.Thanks to you..."Shakespeare snap at him.

"Not my fault the chicks dig me.Unlike you Shakey."Carlos laugh on what he said."26 and yet doesn't have a girlfriend how sad Shakey."

"Even if I didn't have a girlfriend."Shakespeare said with a anger voice."But its better then being play boy who mates with god knows how many girls."

"Like I said the chicks dig me."Carlos said still laughing."But you know Shakey.I could suddenly turn from being straight to a bisexual in a matter of seconds.Just to make you feel better."

"No thanks."Shakespeare rolled his eyes ignoring Carlos' childish laugh.

"Why not Shakespeare?You seem so 'close' to Mitch."Carlos said giving a hint in his voice.

"Your one sick bast-"Before Shakespeare could finish he felt deep pain in his left leg.He look down to see it was bleeding badly.Then his eye sight was bad and he couldn't see his legs nor Carlos.Then he fainted as he fall to the ground not moving.

"Shakey?"Carlos stop laughing and have a worry face."Ar-ar-are you playing around with me?If you are its not funny."

But Shakespeare didn't move.The blood keep falling from the snake bite wound.Carlos was now getting more worry as seeing this.He knew Shakespeare wasn't playing around.He quickly was by Shakespeare's side.Kneeing down and pick him up.He notice Shakespeare's breathing was slowing down.He search down his leg where the blood was coming from.Then he saw the snake bite.There wasn't a non-poison snake around.He knew that was a poison snake bite.

"Oh god..."Carlos softly said to himself.Could it be possible that Shakepeare was going to die in front of him.No he couldn't, Shakespeare can't die like this."Shakespeare!Please be okay....you got so much to live for.Mozart...Tosca....Mitch"

Carlos hold back his tears as he countine.

"Me....."Carlos hold Shakespeare's body tightly."Shakespeare I didn't mean what I said to you.To tell you the truth I always look up to you.Unlike me you got a caring,loving family.You got a wonderful brother that look up to you too.Three beautiful sisters...Tosca,Mozart,and Daisy as well as many more sisters.I'm sorry for every getting those three in trouble by mating with them...."

Carlos couldn't hold it back.He start crying as he hope that Shakespeare will make it.Few tears fall on Shakespeare's cheeks.

"Thank you."

Carlos look at Shakespeare who was smiling.He gaze into his green eyes that tells him to calm down.

"Shakespeare..." Carlos smile lightly as he hug Shakespeare tightly.


----


Yaaaaaaaay more drama o:.

I was in a mood for Shakespeare and Carlos fluffness.No it isn't a short yoai story >o.Its just a story that show that Carlos DOES care for Shakespeare.

I hate drawing MS paint I really do it sucks >o.

I want oekaki baaaack ;-;.

By the way.The story is BEFORE Shakespeare knew Sarah o:.Shakespeare does have a girlfriend and thats Sarah :3.
General Info
Comments
3
Media
MS Paint
Time Taken
Reference