I care for you
I care for you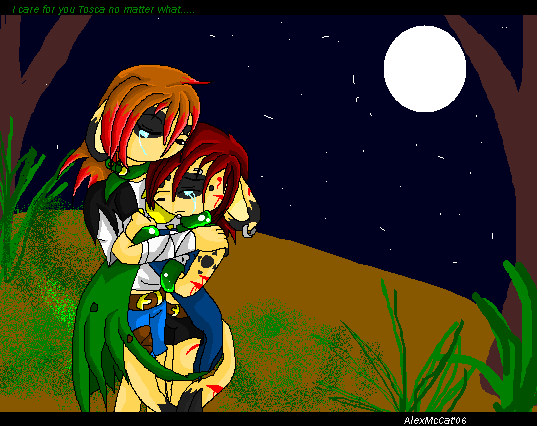 Description
"Everyone in the family hates me.They all listen and obey mom.I don't understand......"Tosca told Shakespeare with saddness in her voice.

"If only I could stop mom from hurting you,and kicking you out of the group.Maybe you'll have a better life."Shakespeare reply to her.He bit his lip as he try to hold back his tears.

He care so much for Tosca.She and Shakespeare was so close.Nothing can break their bond.But Flower did and ever since that day Shakespeare hated Flower no matter how much his family told him it was the right thing to do.

"It wasn't worth it Shakespeare.It was better if I took the beaten then yo-"But she was cut off by Shakespeare.

"Look Tosca I don't care if I get beaten to death by mom.I'm getting sick of her hurting you,and Mozart.It be nice for a change that SHE gets the beaten."Shakespeare angryly said.There was anger in his eyes.

"Shakespeare please....I don't want you to risk yourself getting hurt because of me."Tosca said as she stare into Shakespeare's eyes.

"I always get hurt so I don't care about that."Shakespeare snap as he bit his lip harder.He notice Tosca slowly stepping back.He calm down and look at her."I'm sorry about that Tosca.Just that I never like talking about mom."

"Its alright I understand."Tosca reply as she cross her arms thinking what to say."I just want to go back to them.Go back to the family who use to care for me.I want to see my sons.I worry about them every day because I can never be there if they get in trouble."

"Me along with Mitch are looking after them.The sad part is that they never knew their mother....or father."Shakespeare softly said.

"I know....maybe....one day I get to see them.But as for their father...Carlos they'll never known who he is.With the family against the Lazuli and all."Tosca took heavy breaths as a sign that she was going to cry."I just want to go back Shakespeare!I want to see my sisters,brothers,dad,and my sons.I'm tired of being scared everynight because I could get kill without my family.But..but...I can never go back.Because everyone hates me.Nobody cares for me anymore...."

Tosca couldn't hold it back anymore she start crying hard as she thought about how all her family stare coldly at her and getting punish by Flower.Then she remember how Daisy didn't get punish,and Mozart was let back into the group.It wasn't fair for her, why did everyone have to hate her?

Shakespeare place his hands on Tosca's shoulders and look at her.The same look that he gave to Carlos,and Mitch.Tosca knew that look mean she have to calm down and everything will be alright.

"I care for you Tosca no matter what."Shakespeare said gently to her."I love you Tosca.Your my favorite sister and I promise you.I get you back into the family.I want you to have a caring family again.I want you to see your two wonderful sons.But most of all....I want to have our brother-sister bond back that mom broken."

"Shakespeare...."Tosca hugged him tightly as she cry into his chest."Your the sweetest brother that any brother or sister could wish for."

Shakespeare smile lightly as he hugged Tosca close to him.He hope that Tosca will come back to the group.


-----


Sketch this last night on MS Paint then finish coloring it today.It was quite fun shading them<3.

Anyways I watch Meerkat Manor last Friday.I felt so bad for Tosca that see was out of the group permanently, Poor Tosca ;-;.

But what made me surpise the most that in one episode when the family went foraging and the two young teenager went off to find food leaving the burrow of Flower's pups unguarded.But Shakespeare came back and notice that nobody wasn't babysitting the pups.So he went down in the burrow to check on the pups.Tosca saw that everyone was gone from the burrow.She went near the burrow and pick up the scent of the pups.She went down the burrow and then suddenly Shakespeare chase her out quickly.

That really made me feel bad for Tosca that her own brother that she was close to chase her out.

My version of Shakespeare wouldn't done that.He would of warn Tosca that she'll get in trouble by Flower if she was caught in the burrow.


I hope that one day that Tosca will return tp the group, but its unlikely that she will = (.
General Info
Comments
3
Media
MS Paint
Time Taken
Reference