Cody Bason The Cheetah
Cody Bason The Cheetah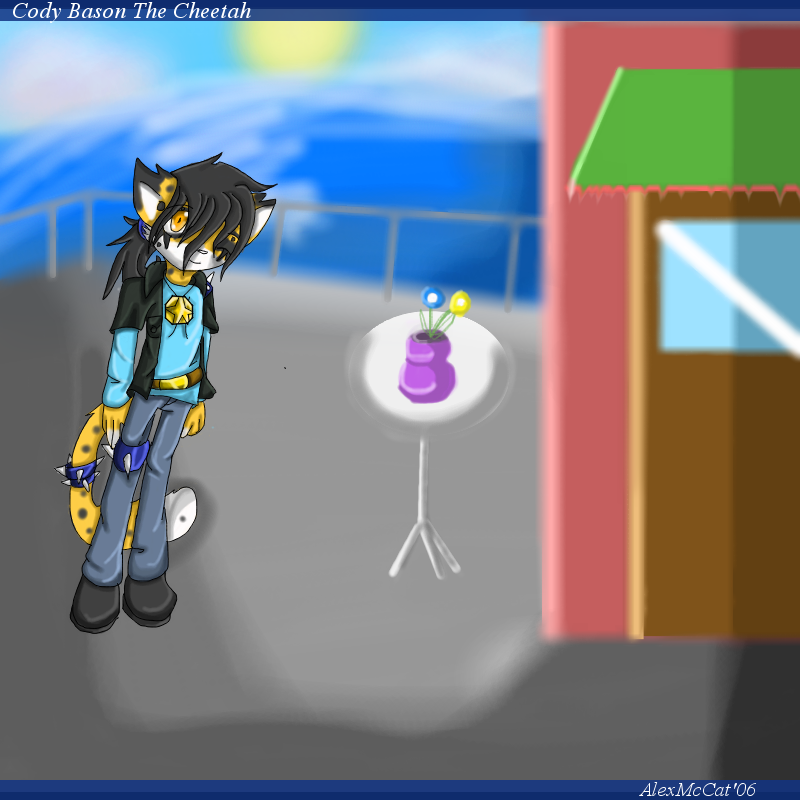 Description
His hair is fun to draw<333.


Anyways this is Cody.Hes 21 years old,and a cop.He is sometimes Carmelita's partner.
Cody often go gets Carmelita coffee,tea,or whatever.But because he always trips and falls whenever he is carrying a drink.But he doesn't trip when he carrying food for some reason o:.

He also lives in one of Carmelita's drawer so he doesn't come into work late o:.*Shotshotshot*


Cody is very kind hearted,and gentle.Hes not very "smart".He takes a long time for Cody to finally get it.But when he is on duty,or De Stole,and his friends are in trouble.He gets serious,and knows what to do.

Cody was once a member of Aaliyah's gang.But left after he learn what they do to innocent people.It wasn't easy getting out of the gang.Cody nearly got killed but lucky to escape.So now he is working as a cop to make up for being in a gang that enjoys to kill.

De Stole is Cody's girlfriend.Now before anyone starts.I change De Stole age from 7 to 17.So she can date Cody :3.

Cody so far is the only cop thats warmly welcome by all of the Sly Cooper gang.Because he save the life of De Stole before she was kill by Aaliyah.He promise not to tell the other cops about the base.If Cody was allow to see De Stole.Also Cody keep watch daily if any emenies or Aaliyah's gang try to harm Sly and his gang


Cody hates Kiyoshi more then the rest of Aaliyah's gang.Because Kiyoshi kills more people then the rest of his teammates.Also Cody learn that Kiyoshi is trying to make De Stole "love" him.But Cody won't allow De Stole to be with that murderer.
General Info
Comments
2
Media
Unspecified
Time Taken
Reference