Stella Telmes
Stella Telmes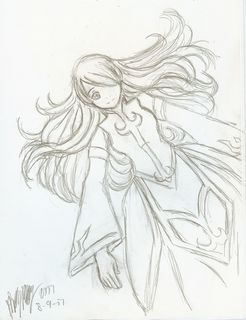 Description
Oh, yes! Stella needs more fanart and therefore more love! This picture was inspired by the part in the beginning of the ToS OVA where Colette was lying on the ground. And since I thought of Colette as similar to the Ferines, I thought, why not?

I had a lot of fun with her hair, and I love how her dress and eye came out. In fact, the only things I don't like about this picture are a lack of background, and her hand.

I have a Computer Graphics class that teaches Photoshop, so I may color her in the future and/or give her a background of either water or ground. Water seems more appropriate, but water is hard to work with ... if that doesn't work, using her teriques would work, too.

Thoughts are most welcome.