Happy Easter, everyone!
Happy Easter, everyone!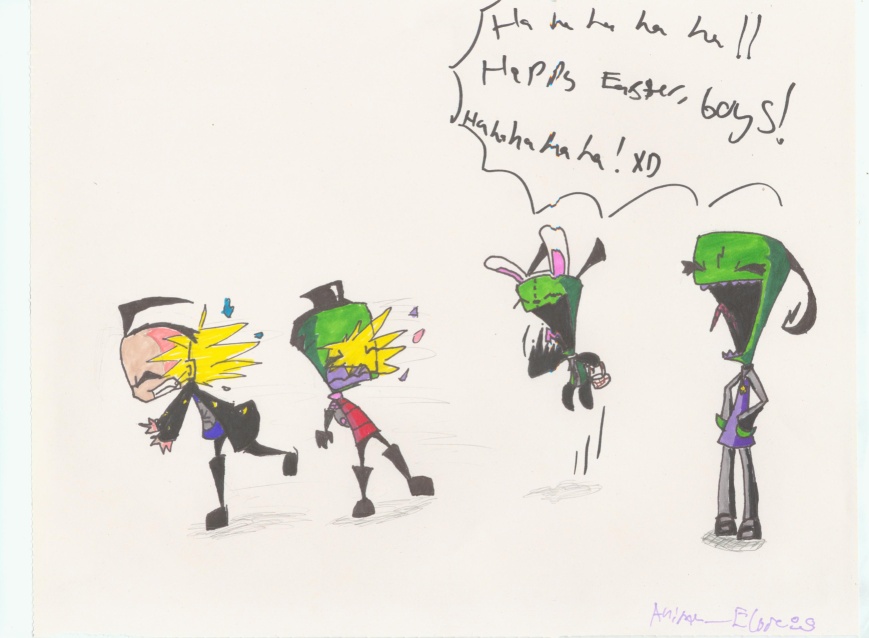 Description
HAPPY EASTER EVERYONE!! XD I drew a picture! Oh..who's the new Irken on the right behind Gir? That's my Irksona. Yay purple! I wore purple because green would look bland... ok,now the story behind the picture:

Zim figures out it's Easter today, and plots a new, evil plan to take over Earth. El (me in Irken form) also has a plan, but Zim steals the eggs I was working on and sabotages them for his own evil plan. El tells Dib what's going on to get revenge on Zim after she figures out what he's done, and Dib goes off to stop Zim's plan. The eggs were reprogrammed to turn people into his slaves. (note:Zim is dressed up as the Easter Bunny.) He doesn't get away with it since Dib interfered and broke all the egg-machines. While the boys are fighting, El comes up with Gir and says this:
El: Well, my second plan worked!
Zim: El! This is your fault?!
El: You destroyed my plans...
Dib: I was part of your second plan?!
El: *nods*
Zim: *gets up* Why you--!!
El: Gir...*snaps fingers*
Gir: EASTER EGGS FOR EVERYBODY!! *jumps up and throws eggs at Zim and Dib.*
Zim and Dib: AAAAAAH! *both get hit by eggs*
El: Ha ha ha ha ha! Happy Easter Boys! Ha ha ha ha ha! >XD
Gir:*continues hitting Zim and Dib with eggs*

I might post a story with this! Tell me what you think! XD
General Info
Comments
14
Media
Ink or markers
Time Taken
I took--...I dunno.
Reference
Zim Study pic.