Halloween contest entry
Halloween contest entry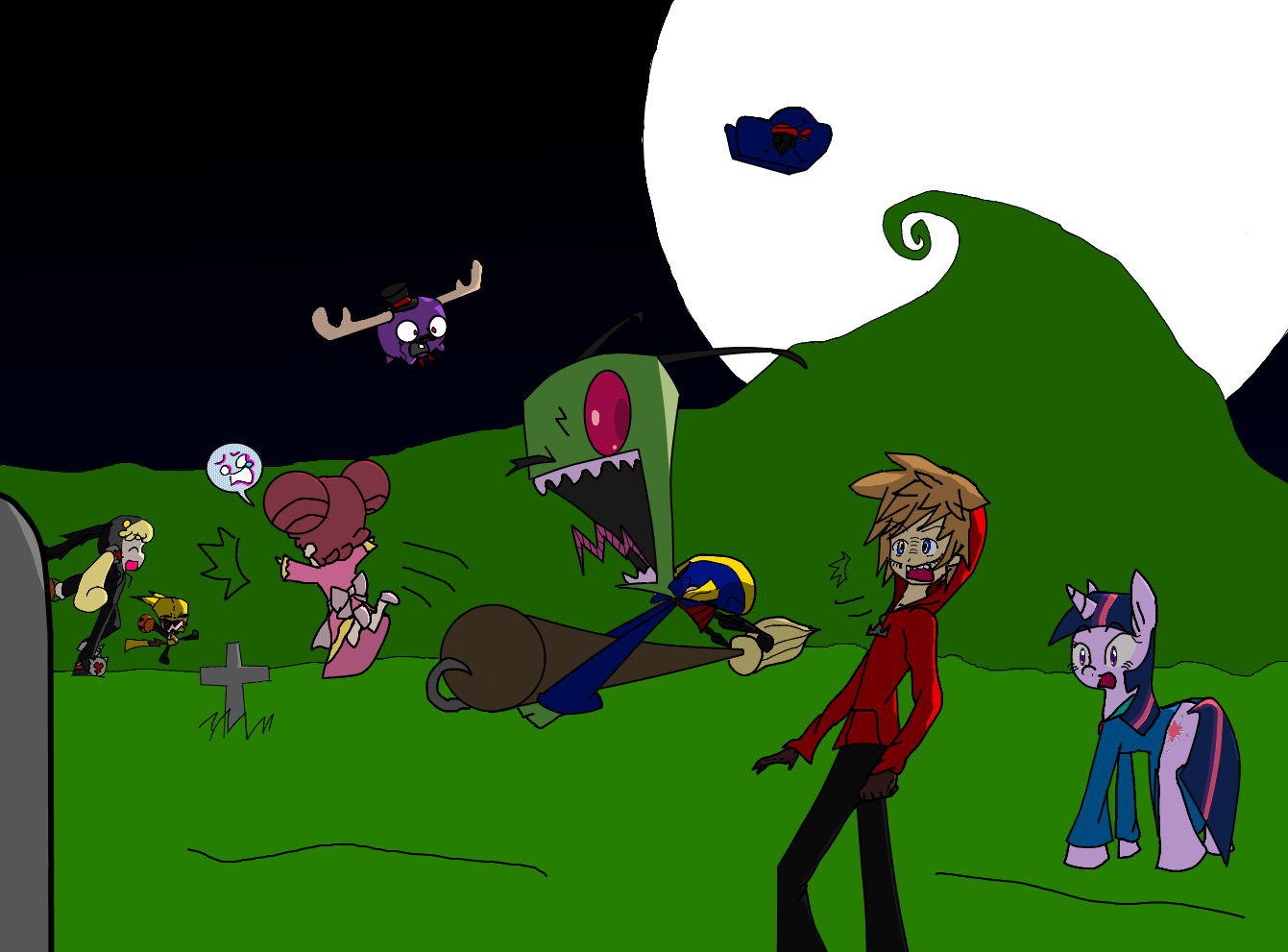 Description
(AAAAAAAAAAAGGGHHH!!! I HAVE TO WRITE THE @#$%^ING DESCRIPTION ALL OVER AGAIN! CURSE YOU FAC FOR NOT ACCEPTING PAINT.NET FILES!!)
FINISHED!! *falls over*
This is also a scene for a almost-written story called KiNGDoM CRaCK. (any better ideas? Name them.)
What's going on? Well, Zim mentioned Halloween and Twilight called it Nightmare Night, and the two argued about it on the way there in the Gummi Ship. When they landed, Jack met up with them (Hana screamed at first sight of him) and told them that there was a costume contest being held that night, and that they should join; they did. Sora is dressed the same way that Gumi is from [
http://www.youtube.com/watch?v=_JGaQ3g8WU4
here
http://www.youtube.com/watch?v=_JGaQ3g8WU4
] , Doremi is Sakura from Tsubasa, Hana is a Heartless, Gir's pikachu, Zim is a pirate, and Twilight is... I don't know. A vamp-pony? And about Spike... he's Phantom from the Opera. XD Why? Because I can, that's why.
And what's happening here is that Zim found a broom stick and decided to try it out. Bad idea because he crashed into a tombstone and it fell on top of him. He's alright, though.
NOW FOR DISCLAIMERS!
Sora (C) Tetsuya Nomura, Square Enix, and Disney.
Zim and Gir (C) Jhonen Vasquez, Nickelodeon, Viacom, and whoever else owns him.
Hana and Doremi (C) Toei Animation.
Twilight and Spike (C) Lauren Faust, Hasbro, and the HUB.
Aaaaand done! XD wheeee
(edit: AAAAGHH MY LINK THINGY DIDN'T WORK PROPERLY! HELP?!)
Also posted on deviantart.
General Info
Comments
16
Media
Other digital art
Time Taken
LOST TRACK!
Reference
One for Twilight, one for PikaGir.