The Armster Family
The Armster Family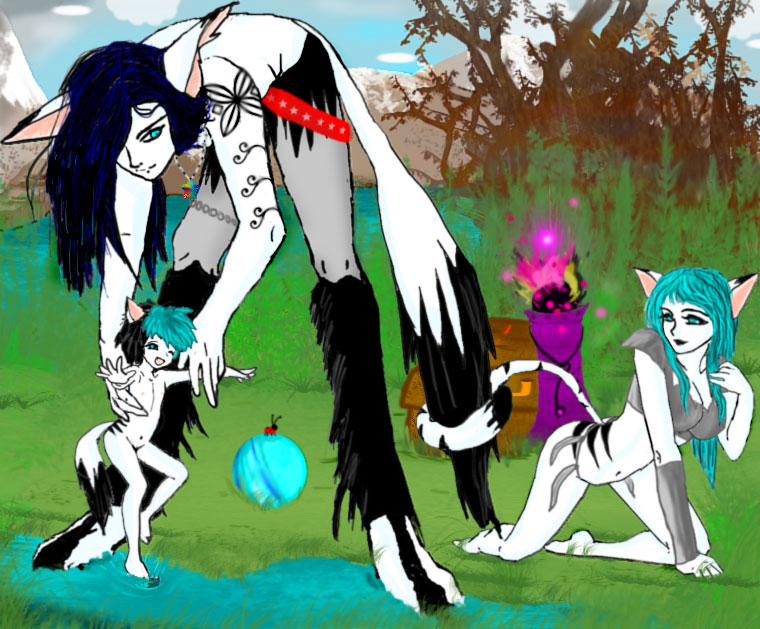 Description
I am not happy with the anatomy AT ALL or the background. I just feel really BLAH about it all together.

Even though its a dangerous place (where the family is)
Rahu took the precautions needed to take his family out for a nice 'camping' experience. (there is a battle behind those mountains-so yeah, he's moving his family around) Rahu made out a small thicket & little body of water for his family to stay at, Aomi's being his little self and playin around (he's not that much of a brat to run off where he isn't supposed to go.) Aoxi and Aomi tagged team against Rahu in a sort of 'tag'. Rahu is well skilled in sorcery and the sciences, so he's able to be a dangerous man and as well as a man of medicine.
That purple pillar is a sort of 'fire' fueled by magic, it serves as fuel, warmth and a detection device (scans for enemies) The brown trunk thing stores their items like blankets, food, other things. So yeah, all of Aomi's trademark items are there too, his little ball, Drop the ladybug, etc etc.

YAY FOR DEMONS!!!
General Info
Comments
1
Media
Digital drawing or painting
Time Taken
3 days
Reference
none