Lupin through the ages
Lupin through the ages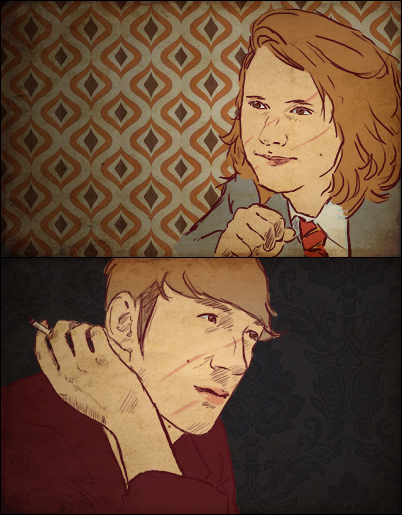 Description
Two of the 165865236548 Lupin drawings I've done in the past few days. Can you tell he's my favorite?

I also was trying to figure the exact way I picture him, because, if you look at "The Vintage Years" you will probably notice that he doesn't look the same. At all.

The reference for the younger Remus is Samuel Barnett, an English stage actor. I discovered him in "The History Boys" and BBC's "Beautiful People" in which he plays Simon Doonan. For some reasons, I thought his face suited the character very well. For the hair, I used the same as the last time: Jamie Campell Bower, who plays the creepy kid in Tim Burton's Sweeney Todd.

The older Remus is, of course David Thewlis, who plays Remus in the movies. Now, I know that a lot of people criticize the choice of Thewlis for the movies, but not me. Actually, he appears to be one of my favorite actors. I recommend you to see "Gangster No. 1" if you haven't already did, he's purely fantastic.

Also, his eye color is never mentioned in the books and I know that many fanfic writers picture him with honey/golden-ish light brown eyes. But I find that horrible and unnecessarily fluffy. So I gave him greenish brown eyes, which is a nice color to go with light hair, I believe.

---

Deux des 165865236548 dessins de Lupin que j'ai fait ces deniers jours. Ça se voit que c'est mon préféré ?

J'essayais aussi de voir la façon exacte dont j'imaginais Remus, parce-que, si vous regardez « The Vintage Years » vous remarquerez surement qu'il ne se ressemble pas. Du tout.

La référence pour le Remus plus jeune est Samuel Barnett, un acteur de scène Anglais. Je l'ai découvert dans « The History Boys » et adoré dans la série de BBC « Beautiful People » dans laquelle il joue Simon Doonan. À vrai dire, je trouvais que son visage convenait très bien au personnage. Pour ce qui est des cheveux, j'ai utilisé le même que l'autre fois : Jamie Campbell Bower, qui joue Anthony dans Sweeny Todd.

Le Remus plus âgé est, bien sur David Thewlis, qui joue Remus dans les films. Je sais que beaucoup de gens critiquent le choix de Thewlis pour Remus, mais pas moi. En fait, c'est un de mes acteurs préférés et je trouve qu'il le joue assez bien. Après tout, c'est pas de sa faute s'ils lui ont mit une moustache. Sinon, je vous recommande de voir « Gangster No. 1 » si ce n'est pas déjà fait, je l'adore là dedans.

Aussi, on ne mentionne jamais la couleur de ses yeux dans les livres et je sais que beaucoup d'auteurs de fanfic le décrive comme ayant les yeux dorés/miel, mais moi je trouve ca atroce et inutilement fluffy. Donc je lui ai mit des yeux bruns verdâtres, une couleur un peu plus classique qui se marie bien avec des cheveux châtains.
General Info
Comments
1
Media
Digital drawing or painting
Time Taken
Reference
David Thwelis, Samuel Barnett