Young Folks
Young Folks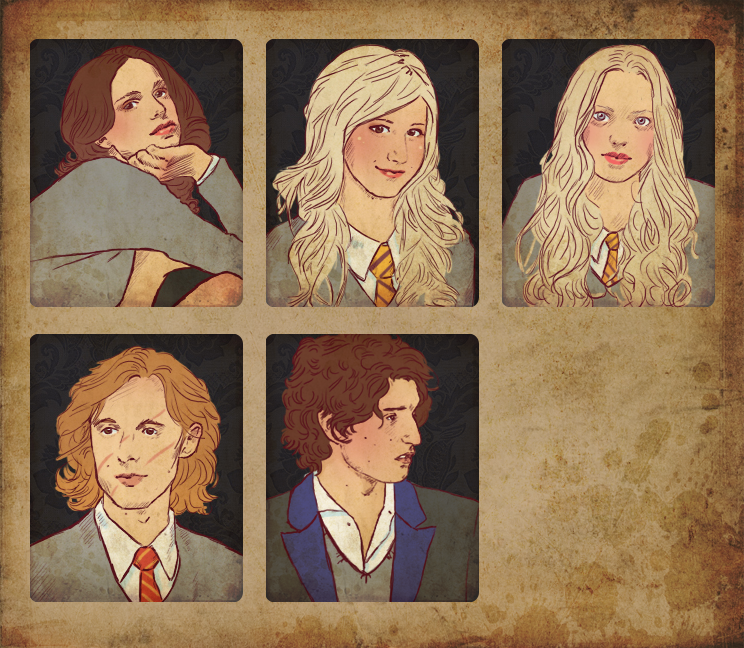 Description
Some random Hogwarts students from 1976.

I was planning to make a nice yearbook with every student in every house, but I lost interest, so I'm only posting the ones I had already made.

So, the first girl is Mia Barnett (Tia Ayrton Hill for the reference). She is Jewish and is the only Witch in her family. She's a Hufflepuff, even if you can't tell in the picture.

The second one is Florence Pevensie (Ashley Tisdale), one year older than the others. She's the head girl and basically takes care of everything in the school.

The third girl is Olivia Wright (Amanda Seyfried). She's kind of… weird and a total hippie. Some people are afraid of her.

The first boy is Remus Lupin, of course.

And the last one is Felix Lockwood (Louis Garrel). Olivia's best mate, he's a hippie as well and pretty sarcastic. He does not wear his tie because "It's so bloody conformist, man!"

There should have been a lot more (lots of hippies in Ravenclaw and Hufflepuff) but I don't really have the motivation, lol.
General Info
Comments
2
Media
Digital drawing or painting
Time Taken
Reference