The other boy
The other boy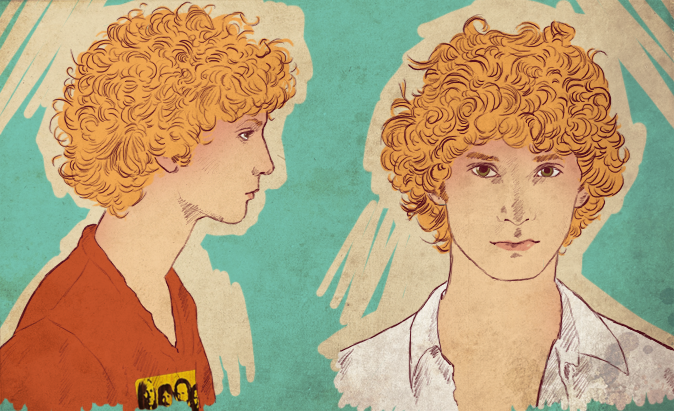 Description
A few days ago, I was reading a fanfiction about the Marauders and in this fanfiction, there was another boy sharing a dorm with them, and I thought it was logical, since there usually are five persons by dorm in Hogwarts, because that's how nature is made. It made me think.

In the fic, the fifth boy was Gideon Prewett, but I didn't wanted it to be him in mine, because in my mind, Fabian and Gideon were both older than Molly (don't ask why, that's just the way my brain works) and Molly's school years were in the fifties.

So I decided to create another character, this guy. His name is Gordon, probably Gordon Bones or McKinnon, but I think he's more likely to be a Bones with a face like this. Now, you may be wondering how he could share a dorm with the other boys and not be a part of the team, I mean, if they took Wormtail, why not him? Well, here's the reason: He hates them with a burning passion (and so, gets along pretty well with Lily).

And Peter? Well, he worships James, and James Likes the attention. Plus, in those days, he was just a nice, chubby and innocent little boy, remember.

---

Il y a quelques jours, je lisais une fanfiction sur les Maraudeurs et, dans cette fanfiction, il y avait un autre garçon qui partageait leur dortoir et je me suis dit que c'était logique, vu qu'il y a généralement cinq personnes par dortoir à Poudlard, parce-que la nature est si bien faite. Ça m'a fait penser.

Dans la fic, le cinquième garçon était Gideon Prewett, mais je ne voulais pas qu'il se retrouve dans la mienne, puisque, dans ma tête, Fabian et Gideon étaient tous deux plus agés que Molly (ne demandez pas pourquoi, c'est juste la façon dont fonctionne mon cerveau) et Molly a fait ses études dans les années 50.

J'ai donc décidé de créer un nouveau personnage, ce gars là. Il s'appelle Gordon, probablement Gordon Bones ou McKinnon, mais j'imagine qu'il serait plus die genre Bones avec un tel physique. Bon, j'imagine que vous vous demandez comment ça se fait qu'il puisse partager son dortoir avec les autre garcons sans faire partie de l'équipe, surtout s'ils ont prit Queudver, pourquoi pas lui ? Eh bien en fait, la raison c'est qu'il les déteste de toute la profondeur de son âme (et donc, par le fait même, il s'entend assez bien avec Lily).

Et Peter ? Eh bien, il admire James, et James aime l'attention. En plus, à cette époque, Peter n'était qu'un gentil petit garçon rondouillet et innocent, rappelez vous.
General Info
Comments
6
Media
Digital drawing or painting
Time Taken
Reference
Jeremy