Tails and Sonic's Failed Retreat
Tails and Sonic's Failed Retreat
Tails and Sonic's Failed Retreat
by
Ashura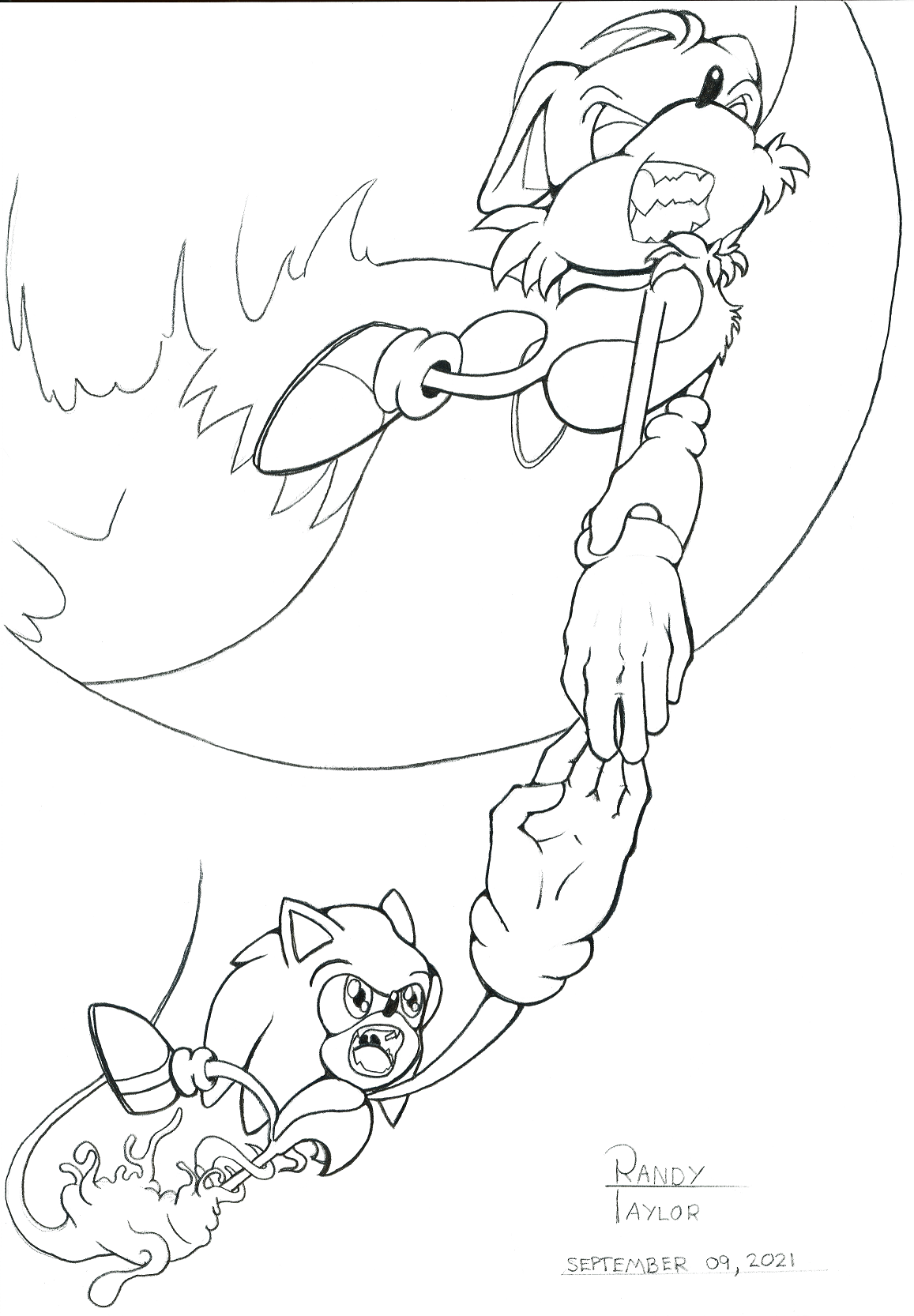 Description
[ltr]
I have to say, I surprised myself with this. I know it looks awful to critique one's self in this manner... but each time I look at this, I think to myself, "No, this HAS to be a dream, because I absolutely CANNOT draw this well." Tails' expression seems absolutely believable to me, as if he could continue moving.
[/ltr]
[ltr]
Problems I've always had with drawings are hands, the appearance of movement, perspective (I'm still working on that one) line quality and facial emotion. I tried to tackle all of these here, and I surprised myself.
[/ltr]
[ltr]
Keep in mind I haven't properly drawn Sonic or Tails since 2005.
[/ltr]
[ltr]
Having said that, let me speak a bit about the subject of the drawing:
[/ltr]
[ltr]
It's based off of the Sonic the Hedgehog Fan Fiction I had written back around 2003. I only finished about 10% of it, but I posted it on facebook earlier today if you would like to take a quick read. This story is MUCH darker than the typical Sonic universe. Here is a summed-up premise:
[/ltr]
[ltr]
Tails accompanies Sonic on a mission to rescue Amy Rose, whom was captured by a mysterious adversary. On the way, Sonic and Tails encounter this sludge-like substance that appears to have intelligence and is able to move around at will.
[/ltr]
[ltr]
The very end of what I have written depicts Tails carrying sonic through the air, attempting to make a preemptive getaway from this sludge monster. They don't get very far at all when the monster shoots a tendril at lightning speed toward Sonic's leg, latching onto it and preventing them from escaping any further.
[/ltr]
[ltr]
It was this part that gave me a clear, precise image of what the scene looked like. I do not have the background drawn--at least yet--because I REALLY REALLY REALLY don't want to smudge the graphite (pencil lead) since I am SO in love with this drawing. The smart thing to do would be to draw an ENTIRE background and then use Photoshop to layer it underneath. But I'll save that for another time.
[/ltr]
[ltr]
#sonic #sonicthehedgehog #sonicthehedgehogfanart #sonicfanart #fanart #art #artwork #drawing #pencil #graphite #sketch #illustration #tails #milestalesprower #miles #tailsthefox #linequality #emotion #intense #tense #fanfiction #sonicboom #drawinghands #hands #perspective #2dart
[/ltr]
General Info
Comments
0
Media
Graphite pencil
Time Taken
3 hours
Reference