Through the Forests of Prontera
Through the Forests of Prontera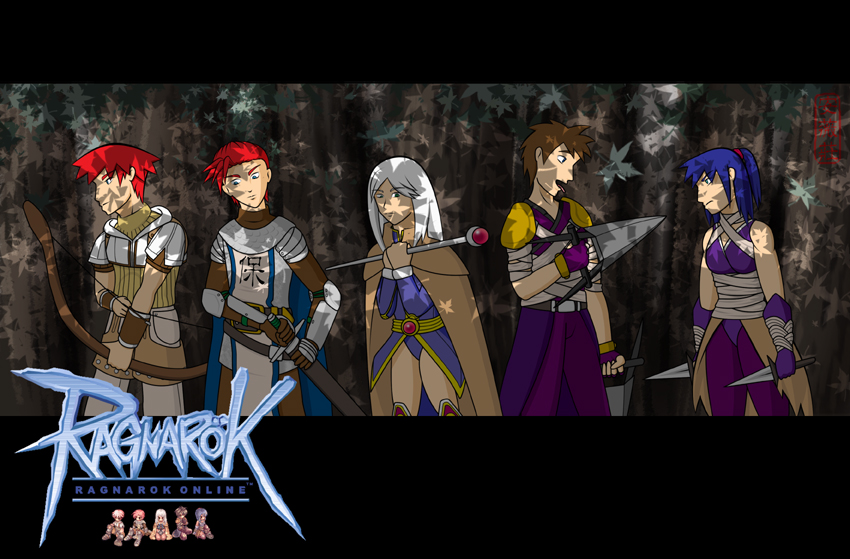 Description
A personal project 6 months in the making. I went through at least 3 different drafts before I finally found a composition that I liked. I based the character designs mainly on the in-game sprites with some detail work coming from the official concept art. I'm especially proud of my background, seeing as it is the very first work I've done on my e-Pen tablet. The rest of the drawing was done by mouse. In keeping with the game's 2D characters in a 3D world, I did a painterly background with Anime-style characters.
This is dedicated to my real life friends who introduced me to the wonderful world of Ragnarok Online. These are the very first characters we all ever made in the game. I'm at the back and being teased by one of my friends since I started the game very late, long after one friend stopped playing.
From left to right: Kirokose the male Hunter; Kyo the male Knight; Inuko the female Wizard; Kazaragi the male Assassin; Senko Tora the female Assassin. (Our character names theme so well together.) The katars that Kazaragi is holding are of my own design I dub Black Baphomet. All the other weapons are based on sprite designs in the game.
One more thing I want to say: I'm sorry, ~
riaru
. :( I tried so hard to make you look good but my efforts were not good enough. Please forgive me.
Media:
Photoshop 7, e-Pen Chinese tablet, Logitech laser mouse
Inuko the Wizard belongs to ~
riaru
Kazaragi the Assassin belongs to ~
Kazaragi
Senko Tora the Assassin belongs to me, AznTigress
Kirokose and Kyo both belong to their respective players who do not have art accounts.
Ragnarok Online © Gravity Corp.