i.n.f.e.c.t.i.o.n.
i.n.f.e.c.t.i.o.n.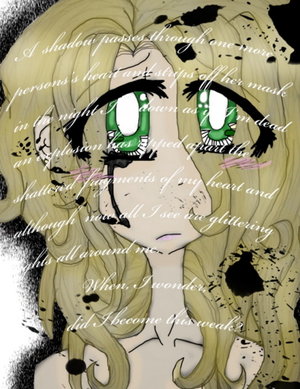 Description
infection
Oh my goodness gracious.
This took me FOREVER to finish.
Oh! by the way, this is Hayner's mother, Emily.
Here's her info.
--
Name: Emily Rhodes
Age: 33( at death)
Likes: Her family, cooking, guests, napping, plums.
Dislikes: Messes, yelling, bugs, being hungry, ducks.
Cause of Death: Her husband shot her in the stomach with a shotgun. She died only second later.
--
Emily rhodes/drawing/coloring(c) Me!
Infection(c) a song by Chihiro Onitsuka
Blood Brushes(c)
shad0w-gfx@deviantART.com
General Info
Comments
3
Media
Other digital art
Time Taken
dunno
Reference
none