ChristmasCarols 2006
ChristmasCarols 2006
ChristmasCarols 2006
by
Blade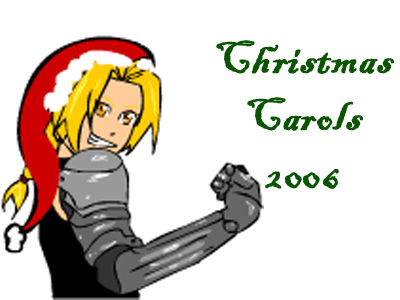 Description
Go Here to see it: (I don;t want to have to re-upload this on multiple sites multiple times untill I finish with it.)Thanks!
http://www.deviantart.com/deviation/45292764/
Merry Christmas Everyone!
Sadly, this is a work in progress. My original file for this died, it refused to export. Gah. SO I lost days of work time and work. As a result I am not finished with this. Sorry!
However I will coninue to work on it. As you can see there are frames missing in a few cases, and half the song, and there's another song that comes after this, I have all the lyrics to it, I just need to daw the pics. I am also going to make all the art look nice and pretty, a lot of it here is just to fill up space for now.
So, stay tuned for the final version!
Lyrics:
Edward the Full Metal Alchemist (Rudolph the Red Nosed Reindeer):
You know Mustang and Hawkeye,
and Armstrong and Maes Hughes,
Hoenhiem and Trisha,
and Alphonse and Winry,
but do you recall,
the most famous alchemist of all?
Edward the Full Metal Alchemist,
Had a very shiney arm,
and If you ever saw it,
You would see the fangirls swarm, (Like a pack of dogs!)
All of the other alchemists,
used to laugh and call him names, (Like a puney shirmp!)
(I'll post the rest of the lyrics here as I finish the flash)
We Three Ninja (We Three Kings)"
We three ninja of Konoha are,
eating ramen at a bar,
Sasuke waited,
Naruto ate it,
Sakura glared from afar.
(I promise it makes sense with the pictures!)