Movie Montage Mural
Movie Montage Mural
Movie Montage Mural
by
Blade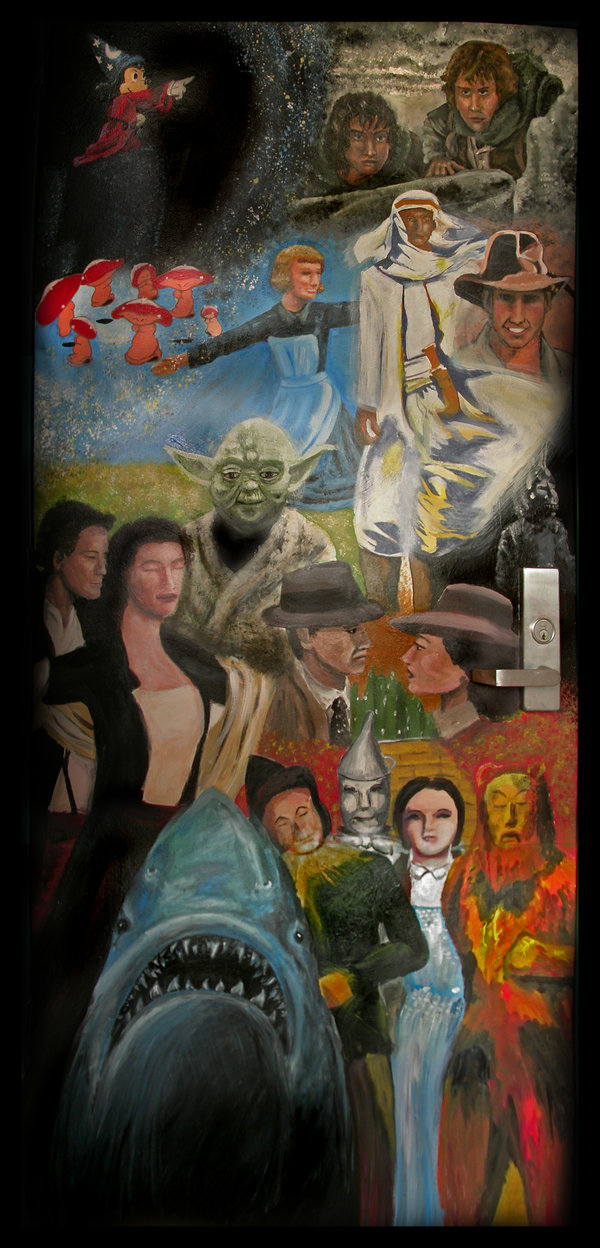 Description
This was a final from my art class. Everyone had to paint a door at the school. This is the mural I designed for the Video Productions class.
I haven't painted anything in about two years now, and this was definitely a challenge. It was hot and the paint dried to fast, or there was glare from the sun. And the top and the bottom of the door were hard to get a good angle on.
Not to mention our supplies were kinda bleh. The colors we had were red, yellow, blue, white, and black. Which would be ok, except it was house paint…and more importantly the blue was strangely desaturated, and the black had a blue tint. It made it really hard to get the right colors.
Anyway, this picture really does no justice to the mural, the sun was setting by the time I finished and there was a terrible glare. Maybe I'll take another one someday.
This was a combined effort between me and a few other artists.
What I worked on:
-Mickey from Fantasia
-Frodo and Sam from LOTR
-Maria from Sound of Music
---face by me
-Lawerence of Arabia
---face by me
-Indiana Jones
---face by me
-Frank the bunny from Donnie Darko
-Yoda from Star Wars
-Jack and Rose from Titanic
-Jaws
-Casablanca
--- some touch ups by me
-Wizard of Oz
--- touch ups by me
Critique discouraged because this is not wholly my work, and because I realize most of the flaws, we had to work fast though.
Download on DA for huge view- I did this so you could see the details.
http://bladesfire.deviantart.com/art/Movie-Montage-Mural-88769636
General Info
Comments
1
Media
Acrylics
Time Taken
Reference