Comics 3 & 4
Comics 3 & 4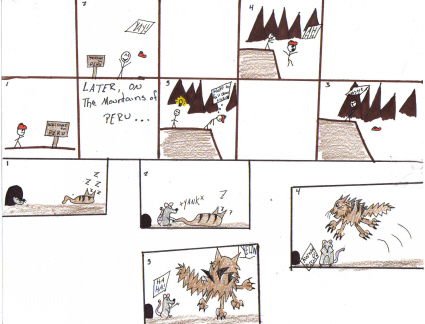 Description
Comic 3
reads like: 2. 4.
1. text 3. 5.
1. Sign: "Welcome to Peru"
2. Sign: "Welcome to Peru" Bob: "YAY"
"Later, On the Mountains of Peru...
3. Bob thinks: "I'd hate to fall down there!"
4. Bob: "AHHHHHHH"
5. Peru-dude: *Whistles*
Comic 4
reads like: 1. 2.
4.
3.
1. Kitty: "ZZZZZZZ"
2. Mouse: *yank!* Kitty: "ZZZZZZZ"
3. Mouse: "HAHA" Kitty: "YEOW"
4. Mouse: "Oh, crap!"



~This is the last of the shootty comics..sorry that some of you have wasted your time on them...I can't remember why I even posted them, but like I said, What the hell..right?
The one about Peru I did for a friend of mine who went there on a missionary trip...he thought it was funny, but you'd have to know Mr. Bob...