Staramy Aurusagi
Staramy Aurusagi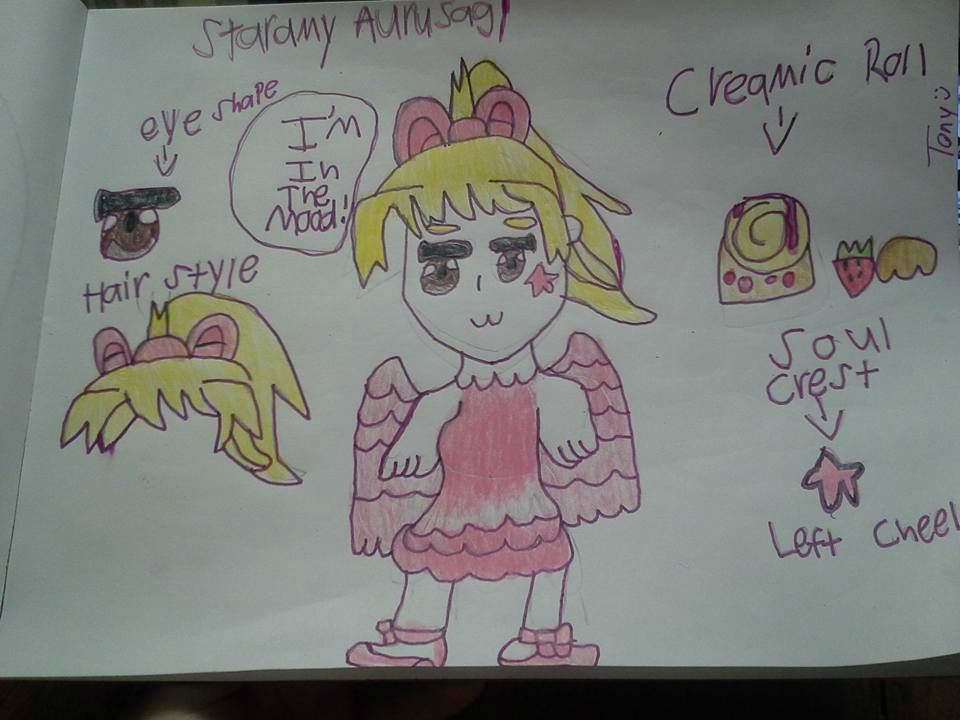 Description
Name: Staramy Aurusagi
Alias: None
Age: N/A
Race: Sugroin

Catchphrase: "I'm in the mood!"

Myer Briggs personality type: ESFP
Bio:
Staramy used to be a normal everyday School Girl, who was always Lazy, Obnoxious, Clumsy and Hyper, especially at School. One day after School, she wanting to explore the town she lived in, she found a mysterious dark blue cave when she went to the woods.
She decided to go inside, discovering a portal that lead to a new universe. She was enthusiastic to see whats inside and later changed her mind. But the cave was closed by a force field once someone is inside and went into the portal because she had no other choice.
After going into the portal, she was seeing clouds, light colors and weird looking, glowing humanoids. Staramy was really confused about everything, a tall female with very long hair stood infront of her. The woman was named Mitsuuo, the godess of light and peace.
Mitsuuo introduced herself and showed Imad, Pearl Leonas and Basho about Staramy.
Imad noticed something on her cheek. He said it was a Soul Crest, and she was a Haran.
Imad wanted to show what her strengths were, but Basho wanted to train her instead, to become a true Haran.
Basho explained to Staramy what a Haran and a Mary Sue was, after that, he challenged Staramy into battling him to test her streangth. But she failed, and didn't have any weapons. Pearl came into Basho's room and showed him a Huge dark red sword with a pink star that looked exactly like Staramy's Soul Crest. She wanted to give her the sword so she can train herself into becoming better. While Staramy was training, Mitsuuo told her that this heaven like place is called Haran World. She decided to show her that under Haran World, was Haran City.
A city with harmony, and all kinds of species were welcomed. Mitsuuo sent Staramy to Haran city, with a house and a new family to take care of her. Once she went inside, there was a glowing blue young lady named Astrid, who had no idea why she was in her house. Staramy introduced herself, and did some random gestures because she was ignoring her. Astrid was instead cringing at her childish acts.
Personality:
Hyper
Annoying
Insane
Comedic
Clumsy
Whiny
Kind
Childish
and Caring
Abilities: Able to become super fast, once consuming something that is "Sugary"
Flying, despite having small wings. And able to Fuse like every other Haran. Having a one time only power of a godess.


Flaws: 
1: shes not too strong at fighting, because shes still training for a while. 
2: There are lots of people who dislike her due to her being annoying, but there are some characters love her of course.
3: She's a Sugroin, but in order to use her speed ability, she needs to consume something thats made of "Sugar" despite being made of "Sugar", otherwise she's unable to use her ability.
4: It takes a long time for her to build a relationship with her partner, Astrid and Shelbursto doesn't even care about friendship, until the grand finale. 

Imad and Pearl belong to 

 from Devintart. http://imadmagician.deviantart.com/
Fun Fact. Staramy's power up/Favorite food are Creamic Rolls, she has a huge obsession with them, ever since Mitsuuo baked them for the first time. 
When Staramy was in Haran City School's Music Class. Her teacher gave her a Tuba for an instrument, and now often plays the tuba in a really loud and obnoxiously way as a running gag.