Sotai Kazue
Sotai Kazue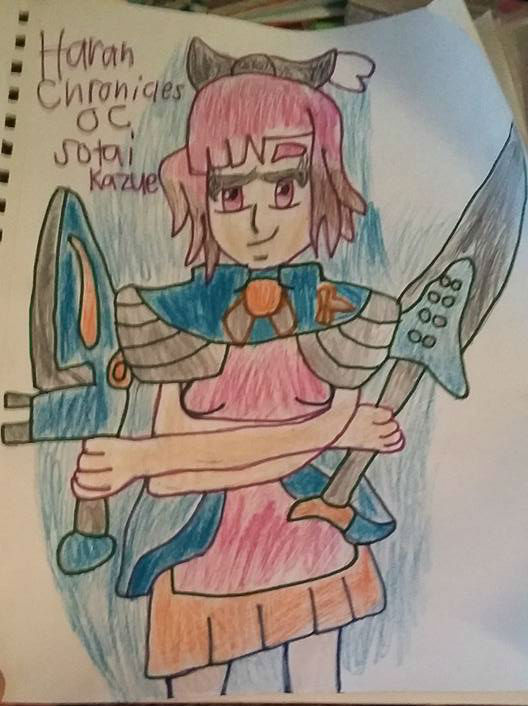 Description
Name: Sotai Kazue
Age: 16
Catchphrase: "Heh, is that so?"
Personality Type: ENTJ
BIO:
Sotai is the daughter of Shoji Kazue, as well as an outgoing Sue hunter that seeks more power every time. Sotai has once visited the Raz palace, always enjoying Carmia's music and singing. Especially when Sotai always enjoys her company whenever shes around. Almost thinks of her as a "Best friend", since she means a lot to her. But she is ok with Raz in general, since she only visited there once, never came back since and wishes to visit Carmia once again.  
Not only does Sotai want power, but also gaining Carmia's trust and respect more then anything else she so desires, willing to transfer all of her power to Carmia, especially if the requirement is her own death. Being the reason why Sotai stops fighting from time to time, or feels depressed.

The main reason why Sotai is a power hungry murderer is because her father was also a power hungry murderer, who often betrays others for his own needs and will annihilate anyone who has more "Power" then he ever has. Before her father's death, he wanted her to be just like him when she is older with these final words he spoke to her when she was only 10.
"Please, Sotai… Will you be my lovely daughter of mine...And destroy anyone.. So you can gain more power then I ever had… *Cough* Thank you… For letting me take care of you for a short while…. I know that you are young, but you need to take care of yourself and your younger sister as well. Because your mother was dead years ago, when poor Reiko was only 4."
His finals words have bursted her into tears, many times and also the fact of missing her dead mother made it even worse.

When her father died. A young woman with long purple hair, who appeared to be a maid at the door and was serving him, asked her if her father is here. Sotai only replied "I'm sorry mam. But my father is dead now. He's in his bed right now." But the woman decided to keep Sotai and Reiko as her own children. But a few weeks later, she saw a double blade and guns at a weapon market, she wanted to ask the maid permission is she can have it when shes older. But she refused to pay for them, since she was only 10. Sotai again convinced her to buy them so she can be just like her father. The maid still refused at the time.

1 year later, the maid was at her friend's house and trusted her to take care of Reiko for a while. During night time, Sotai escaped the house, took the Maid's backup money, went to the weapon shop and bought the 2 weapons,  and went to the outer world for exploration, power and adventure. When the maid came back home, she noticed that Sotai wasn't in any of the rooms, she started to panic in stress as she was extremely concerned about what happened to her during that time. Reiko had no idea what happened to her sister, but started to miss her for a while, until 6 years later.
 Both the sisters have finally reunited after all those tragic years of having no parents at all. But when Reiko saw her, she remembered that she betrayed her. Immediately attacking her, since this was Reiko's Maltyris form. But Sotai managed to escape from her grasp.

Personality:
Outgoing
Power Hungry
Vengeful
Depressed
Sarcastic
Fun Loving
Independant
Blunt
And Selfless

Abilities: Like her Father, she is able to teleport through areas, but it is limited though.
She is also able to fly by gravity.  

102550100