Happy Easter!
Happy Easter!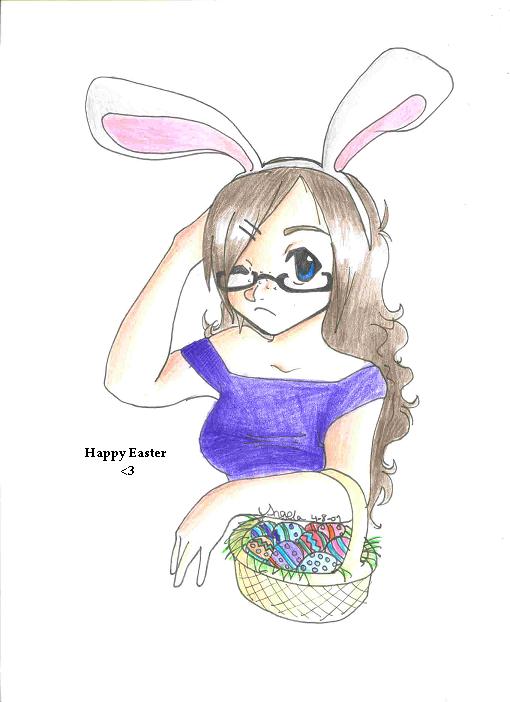 Description
So yesterday (because I had nothing better to do) I reorganized my art folders on my computer.
Before, I had them sorted by subject (e.g. Final Fantasy, Fullmetal Alchemist, etc.).
They were all out of order and such, and I found it rather inefficient (especially for someone with my level of self-diagnosed OCD xDDD).
So what did I do?
I whipped out my actual portfolio and seperated all of them by year.

It didn't take as long as I thought it would, but there were some pictures I didn't have in my portfolio (such as oekaki), so I had to dig up the date I drew them and put them in proper chronological order.
Some of the old ones didn't have a date on them, so I just stuck them somewhere lol.

But it looks nicer now.

Anyway, I drew this last night.
Cause it's Easter.
:3.

I know I'm going to sound like a hypocrite when I say this, but sometimes it annoys me that Easter has become so commercialized.
With the bunnies and all.

What is with that?
Seriously.
Why are bunnies delivering eggs to small children?
Bunnies don't even lay eggs!
Some of you may argue that baby chicks are a part of Easter too, but NO! Chicks don't lay eggs either!
CHICKENS DO!
But we don't recognize chickens during Easter!

SO WTF, I SAY!

*sigh*.

Anyhow,
today I would like to recognize the fact that Easter is primarily celebrating Jesus' rising three days after his death.
For Catholics, anyway.

Alrighty, I'm off to mass.
Have a Happy Easter, everyone :3.
General Info
Comments
4
Media
Colored Pencil / Crayon
Time Taken
Reference