My Imaginary friends and evil twin
My Imaginary friends and evil twin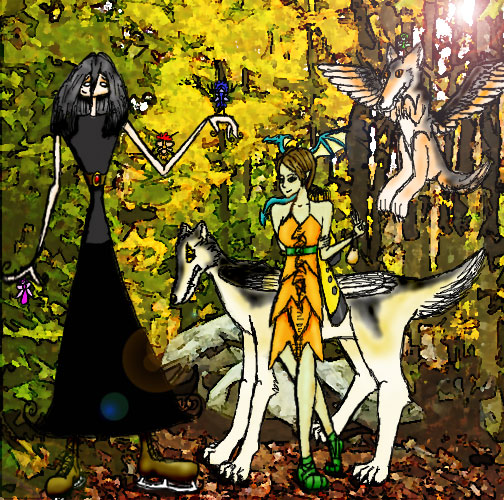 Description
A picture of my "imaginary" friends and my evil twin (guess which one that is!)
Just so we all know who's who, ROLL CALL!


Lilac Windflower - pixie with the leaf dress. Evil twin
Janet - the screamer with ice skates and a black skirt on.
Andrea - the winged wolf behind Lilac
Fenrir - the flying wolf/ coyote (fathers a coyote, mother is Andrea so...yeah.)
Draco - teal dragon sticking his wing up over Lilac's head.
Jeff - spider on Lilac's shoulder
Sharon - Pink sprite hang of to Janet's right hand.
Dareen - Orange sprite doing a hand stand in the crook of Janet's arm.
Jess - Blue sprite doing peace signs.
Delila - Green sprite on top of Fenrir's head

I think the two hardest parts of this picture where A) the background and B) getting them(mainly the sprites and Draco) to stand still long enough for me to do the lineart of them! Yes I know. I stink at drawing wolves. So sue me(not really).
General Info
| | | | |
| --- | --- | --- | --- |
| Ratings | | Comments | 1 |
| Category | Miscellaneous » Characters | Media | Digital drawing or painting |
| Date Submitted | | Time Taken | 4 hours! (most of It was the background) |
| Views | 1318 | Reference | brain, the people in the picture |
| Favorites... | 0 | Keywords | imaginary, friends, evil, twin, screamer, wolf, spider, pixie, sprite, dragon |
| Vote Score | 0 | License | Berne Convention |