Ish a lickle Chi-Chi! ^^ (For Kittykat609)
Ish a lickle Chi-Chi! ^^ (For Kittykat609)
Ish a lickle Chi-Chi! ^^ (For Kittykat609)
by
Boo810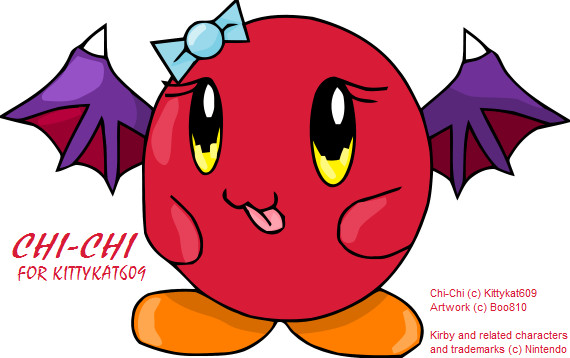 Description
Vectorized it. =P

She looks like she's made of silicon or something. Either that ar she just bathed in grease for an hour or so lol she looks too shiny to me. X3

This is Kittykat609's Kirby OC Chi-Chi. Mecha Knight (My OC) has taken quite a liking to her and acts as her parental guardian of some sorts. But they aren't related, to stress the fact.

Anyway, yeah. Cute n all. Love the mouth, though I had to re-do it like 4 times lol.