Scene from RP - Ridley V Gigabax
Scene from RP - Ridley V Gigabax
Scene from RP - Ridley V Gigabax
by
Boo810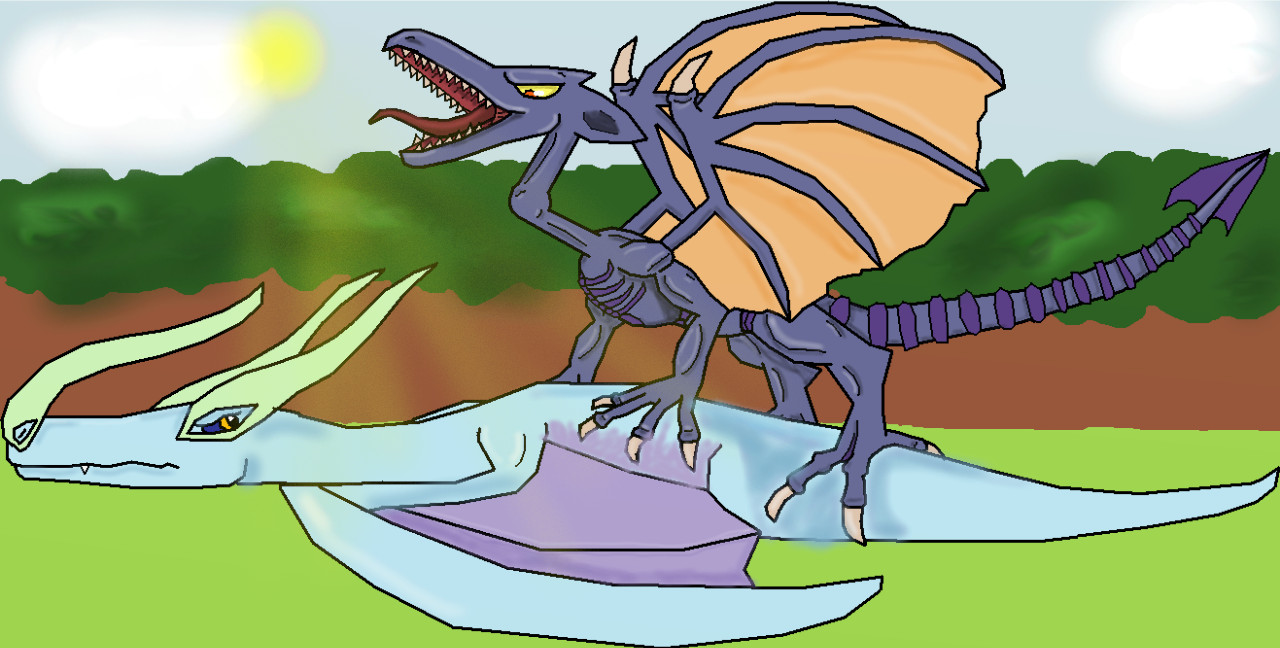 Description
~Sorry about the category, couldn't think of a better one.[/i]

This is a scene from an RP I do with my friend, Laura. I focused on the characters and not the background so the background is rubbish, but the rest is good. Here is what happened:

Gigabax: *raptor noise* *heads towards Sunnyshore*
Laura: sunnyshore?
Gigabax: *sort of shrugs with his wings*
Laura: -.-
Gigabax: *gets tackled to the ground by Ridley and Laura falls off him*
Ridley: REEEEAAAAAAAAAAAAAAGH!
Laura: *hits the floor* >_< ow!
Gigabax: *loud raptor call*
Ridley: REEEEEEEEAAAAAAAAAAAAAAAAAAAAAAAAAAAAAAGH!

There is more than that but I can't be bothered to put in the whole rp. Anyway, done is MSPaint, but the lighting, shading and very fine details (including the sun and clouds) where done in ArtRAGE2.
General Info
| | | | |
| --- | --- | --- | --- |
| Ratings | | Comments | 15 |
| Category | Games » - by Publisher » Nintendo » Metroid series | Media | Other digital art |
| Date Submitted | | Time Taken | FREAKIN' AGES! |
| Views | 1057 | Reference | A pic of Ridley (no tracing) and a pic of Gigabax. |
| Favorites... | 3 | Keywords | |
| Vote Score | 4 | License | Berne Convention |