Toxide - Poisonous Shape-Shifter
Toxide - Poisonous Shape-Shifter
Toxide - Poisonous Shape-Shifter
by
Boo810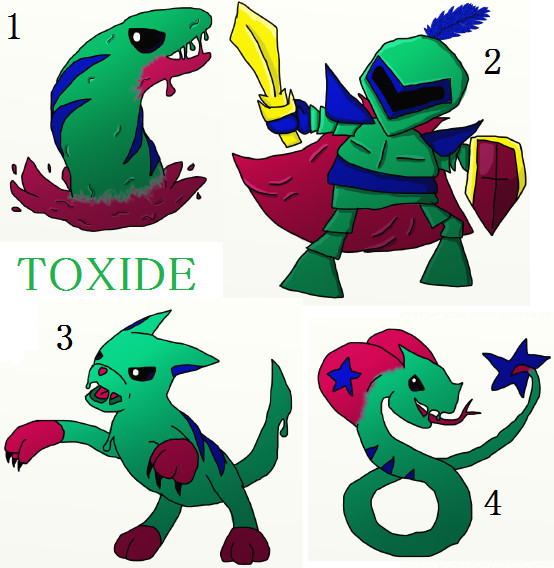 Description
A possible Kirby boss for the rp me and blackcatcurse are organizing on the FAC forums.

So, this is Toxide. He's a poisonous shape-shifter who can only be attacked when he momentarily turns into forms 2, 3 and 4. In form 1, his main/original form, he can't be harmed.

The poses where all very hard to do (except for 1, which was easy) and the colours may vary slightly between forms, but I tried to keep the colours the exact same. For 4 was originaly going to be a Dragonfly, but I couldn't draw one. The entire picture took about 2 days to finish in total.

1 - Blob
Attacks: None
Abilities: Invincible, can change forms.

2 - Knight
Attacks: Razor Blade, Shield Swipe
Abilities: Can only be harmed by fire-abilities, fire-based moves or indirect attacks.

3 - Wolf
Attacks: Super Crunch, Black Claw
Abilities: Can only be harmed by rock-abilities, rock-based attacks or melee attacks.

4 - Cobra
Attacks: Toxic Coil, Star Fang
Abilities: Can be attacked by any kind of move but may poison the attacker on contact.
General Info
Comments
11
Media
Other digital art
Time Taken
About 2 days altogether.
Reference