I Love Your Desk!
I Love Your Desk!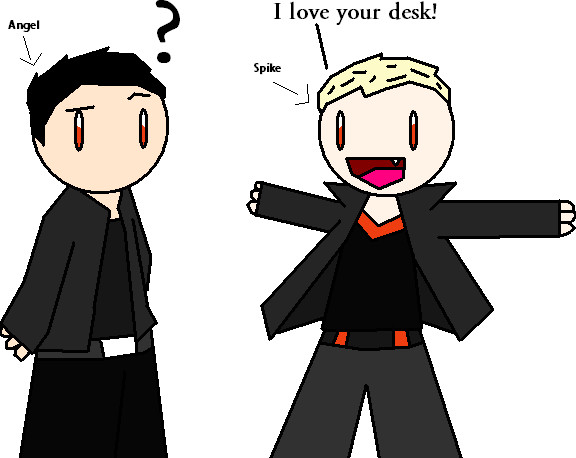 Description
Just a quicky. XD

Came up with this after watching an episode of Joss Whedon's amazing TV series 'Angel', about a vampire with a soul who battles demons, called Angel. Weird coincidence. (lol) It also mixes in with 'Buffy The Vampire Slayer', Joss Whedon's OTHER amazing TV series.

I can't remember the episode name, but I drew this after Spike has gone psycho happy and says to Angel 'I love your desk!'. Concidering Spike's usualy the evil grumpy 'you're a ruddy cow' kinda vamp, this is pretty funny.

(He says this just before Angel finds out Gunn has peed in his chair. XD)

And non-Angel fans will have no idea what this is about, but I seriousley recomend watching the series. :3
General Info
Comments
2
Media
MS Paint
Time Taken
Only, like, 5 minutes.
Reference