Scorpeon
Scorpeon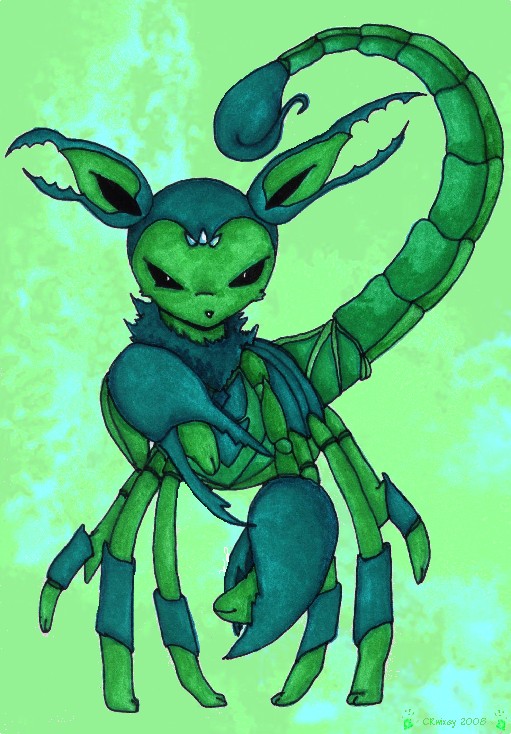 Description
Another late entry for Tuxedo_Mini_Mask's contest... this is another Bug Type Eeveelution, a kind of "alternative" to Vespeon (please see
http://www.fanart-central.net/pic-715558.html
)
Drawn with HB and 0.3 mechanical pencils, inked with 0.3 drawing pen, coloured with felt tips. The background is an ink wash that was edited using Microsoft Photo Editor. Comments always welcome! :)
*Info*
Name:
Scorpeon
Attacks: Standard:
Poison Sting, Twineedle, Leer.
Lv 8 – False Swipe
Lv 16 – Vice Grip
Lv 23 – Acupressure
Lv 30 – Crush Claw
Lv 36 – Slash
Lv 42 – Poison Tail
Lv 47 – Cross Chop
Lv 52 – Cross Poison
Evolution Level:
35 (Eevee evolves into Scorpeon at level 35 if the Trainer also has a Drapion in their team).
Evolved Forms:
None.
Location:
n/a
Type:
Bug.
Description:
Scorpion Pokemon. Scorpeon's eight legs look fragile, but are actually as tough as the rest its hide, and it can scuttle along surprisingly fast, although it has trouble turning sharp corners.
Loyal but moody, Scorpeons have been known to be notoriously bad losers; they curl up in shadowy corners and refuse to return to their Poke Balls for hours if they lose a battle, especially if it was a less than challenging one. The smallest of al the Eevee evolutions, they can be found in unexpected places: some unlucky Campers have woken to find them skulking in their shoes.
Pokemon (c) Nintendo/Game Freak.
Scorpeon (c) CRwixey.
General Info
Comments
10
Media
Ink or markers
Time Taken
Roughly three and a half hours.
Reference
"New Scientist" magazine, issue 2676, page 16.