Aquareon
Aquareon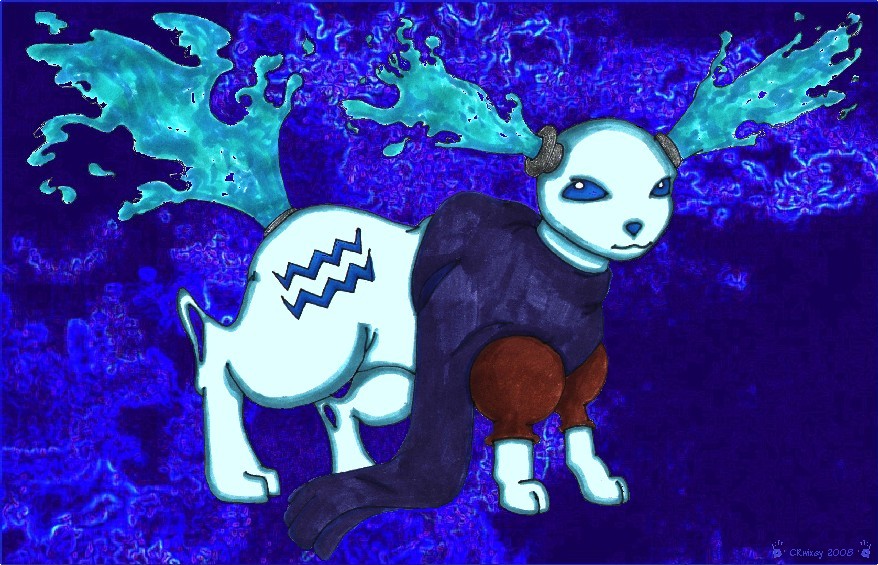 Description
Another new Eeveelution. A Water Type, based on Aquarius the Water Carrier, eleventh sign of the Zodiac. This is the sign of originality, idealism and humanitarianism. It's also the Fixed Air sign, indicative of a tendency towards fixed opinions and ideas.

Drawn with a 0.3 mechanical pencil, inked with a 0.3 drawing pen, coloured with felt tips and metallic silver pen. Background added in Microsoft Photo Editor. Comments welcome! :)

*Info*

Name:Aquareon

Attacks: Standard:Quick Attack, Water Gun, Foresight.
Lv 8 – Mist
Lv 16 – Aqua Jet
Lv 23 – Refresh
Lv 30 – Swift
Lv 36 – Calm Mind
Lv 42 – Future Sight
Lv 47 – Aqua Tail
Lv 52 – Hydro Pump

Evolution Level:Any; Eevee evolves into Aquareon if it is hit by five or more consecutive Water attacks (excluding Whirlpool and Clamp).
Evolved Forms: n/a
Location:n/a
Type:Water.
Description:A warm, sensitive and humanitarian nature hides behind a cool and somewhat aloof front. Aquareon is one of the more misunderstood Pokemon; they aren't really cool and aloof; beneath that front is a gentle being that cares too much about everyone. Always ready to help out, Aquareon enjoys, and excels, at double battles. They're found anywhere there's water, and share a similar sensitivity to weather changes as Vaporeon.
Apart from Kindleon, Aquareon is the only evolution of Eevee to have differently coloured eyes and ears. Trainers who can accept and love them for what they are (quirks and all) find Aquareons make loyal - if idiosyncratic - companions.

Pokemon (c) Nintendo/Game Freak.
Aquareon (c) CRwixey.
General Info
Comments
24
Media
Ink or markers
Time Taken
3 and a half hours.
Reference
None.