Libreon
Libreon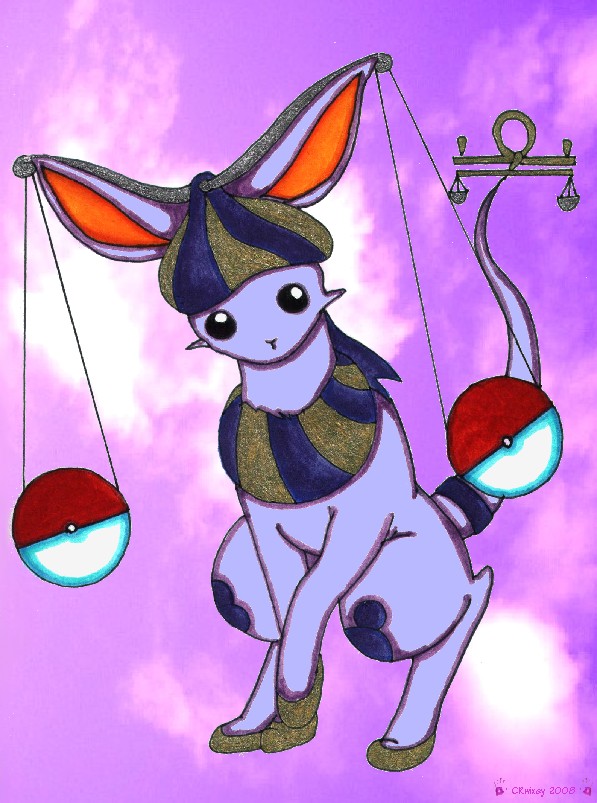 Description
Another astrologically-themed Eeveelution. This one's based on the seventh sign of the Zodaic, Libra the scales. Libra is the Cardinal Air sign, connected with diplomancy, balance and partnership.

Drawn with a 0.3 mechanical pencil, inked with a 0.3 drawing pen, coloured with felt tips and metallic pens. Background added using Microsoft Photo Editor and Microsoft Paint. Comments welcome! :)

*Info*

Name:Libreon

Attacks: Standard:Tackle, Charm, Tail Whip.
Lv 8 – Captivate
Lv 16 – U-Turn
Lv 23 – Baton Pass
Lv 30 – Metronome
Lv 36 – Iron Tail
Lv 42 – Iron Head
Lv 47 – Light Screen
Lv 52 – Doom Desire

Evolution Level:Any; Eevee evolves into Libreon if it uses an equal number of offensive and defensive moves in five battles or more.
Evolved Forms:n/a
Location:n/a
Type:Steel.
Description:Libreon make curious fighters – they never seem quite sure which battle style they prefer. Sometimes they want a defensive role; sometimes they want to deal big damage. Sometimes they don't want to do either, and are liable to cut fights short with Baton Pass or U-Turn. And they don't just change their minds once during a scrap, either – sometimes they'll change it several times in one match. Once they've made up their minds, though, there's no point in trying to tell them otherwise.
Despite their tendency to swing wildly from one extreme to the other, Libreon are charming and wise. They have a sociable streak and love to meet new Trainers and their Pokemon. They also seem to gravitate towards Trainers who have a flair for style and good sense of colour.

Pokemon (c) Nintendo/Game Freak.
Libreon (c) CRwixey.
General Info
Comments
20
Media
Ink or markers
Time Taken
Just under three hours.
Reference
None.