Sagittareon (Request for Gadoink)
Sagittareon (Request for Gadoink)
Sagittareon (Request for Gadoink)
by
CRwixey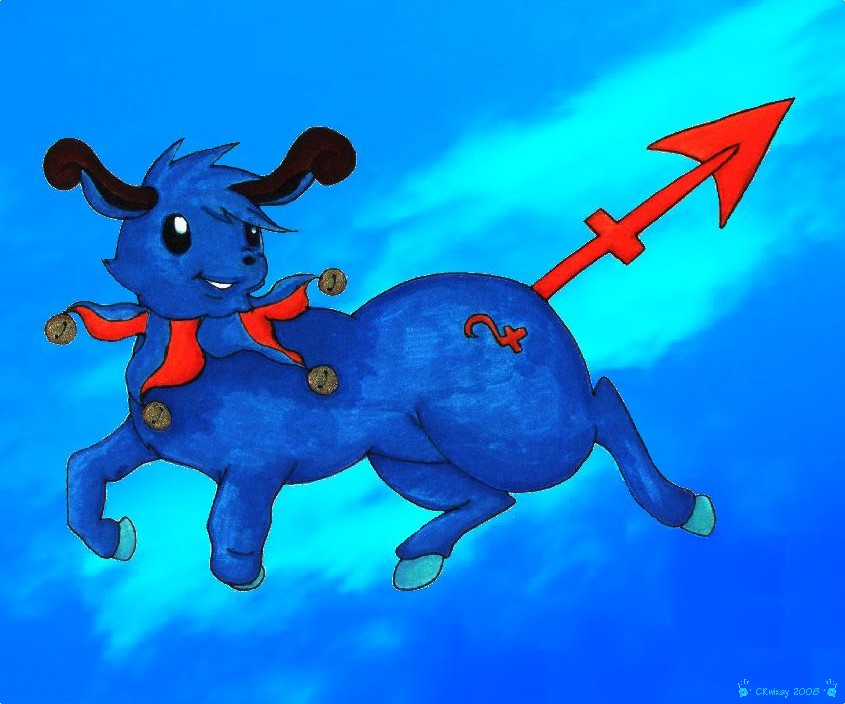 Description
Another Astrologically-themed Eeveelution. This one's based on the ninth sign of the zodiac, Sagittarius the centaur (sometimes called 'the Archer'). Sagittarius is the mutable fire sign, linked with travel, optimism, philosophy, and the pursuit of truth.

Drawn with a 0.3 mechanical pencil, inked with a 0.3 drawing pen, coloured with felt tips. Background added in Microsoft Photo Editor. Comments welcome. :)

*Info

Name:Sagittareon

Attacks: Standard:Quick Attack, Ember, Tackle.
Lv 8 – Fire Spin
Lv 16 – Double Kick
Lv 23 – Stomp
Lv 30 – Flame Wheel
Lv 36 – Take Down
Lv 42 – Endeavour
Lv 47 – Extreme Speed
Lv 52 – Blast Burn

Evolution Level:Any; Eevee evolves into Sagittareon if it loses more than a quarter of its HP through recoil damage.
Evolved Forms: n/a
Location:n/a
Type:Fire.
Description: Sagittareon are the eternal optimists of the Pokemon world. No matter how gruelling or bleak things may look, they stay enthusiastic and upbeat. They relish random battles, where they never know what's going to happen next, and they hate being confined: most Trainers have given up trying to get them to stay in their Pokeballs. It's fairly common to see Sattigareons galloping alongside their Trainers, and although they're very loyal, getting them to stop horsing around long enough to enter them in a contest can be wearying.
Sagittareon are best suited to sporty and energetic Trainers, as their high levels of endurance and stamina can be exhausting. They also love travelling to new locations and meeting new Trainers, as routine bores them. Their boundless energy makes them easy to love, and despite their occasional lack of foresight, they're the most sensitive and generous of creatures.

Pokemon (c) Nintendo/Game Freak.
Sagittareon (c) CRwixey.
General Info
Comments
25
Media
Ink or markers
Time Taken
Around 3 hours.
Reference
None.