Gemineon
Gemineon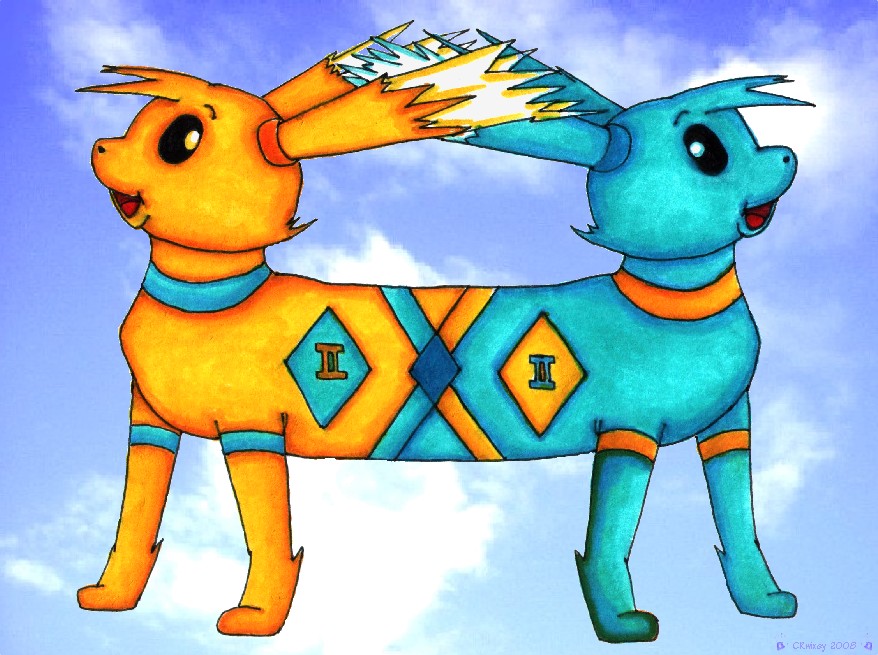 Description
Another Astrologically-themed Eeveelution. This one's on the third sign of the Zodiac, Gemini the Twins. Gemini is the mutable Air sign, connected with skilful communication, curiosity and youth, learning and exploration.

Drawn with a 0.3 mechanical pencil, inked with a 0.3 drawing pen, coloured with felt tips. Background added in Microsoft Photo Editor. Comments welcome! :)

*Info*

Name:Gemineon

Attacks: Standard:Quick Attack, Astonish, Fake Out.
Lv 8 – Double Slap
Lv 16 – Double Team
Lv 23 – Double Kick
Lv 30 – Double Hit
Lv 36 – Chatter
Lv 42 – Pain Split
Lv 47 – Mirror Move
Lv 52 – Double-Edge

Evolution Level:Any; Eevee evolves into Gemineon if it participates in double battles only (ten or more).
Evolved Forms: n/a
Location:n/a
Type:Normal.
Description:Gemineon are the chattiest Pokemon around. There seems to be a permanent and highly entertaining conversation going on between those two heads, although so far no one has been able to translate their peculiar language...
Gemini use their razor-sharp perception and wit to confuse and outsmart foes – although Trainers sometimes feel their Gemineon would rather make friends with opponents than beat them up. Young at heart, Gemineon never lose their child-like inquisitiveness and are eager to learn about everything. They have the potential to become highly skilled fighters or contest winners, but aren't always sure what they want to specialise in as so many options are open to them. With careful guidance, Gemineon are a force to be reckoned with. They're also easy to raise they aren't picky about food – they'll eat practically anything, as long as it's quick to chew and easy to digest.

Pokemon (c) Nintendo/Game Freak.
Gemineon (c) CRwixey.
General Info
Comments
17
Media
Ink or markers
Time Taken
Around two hours.
Reference
None.