Leoeon
Leoeon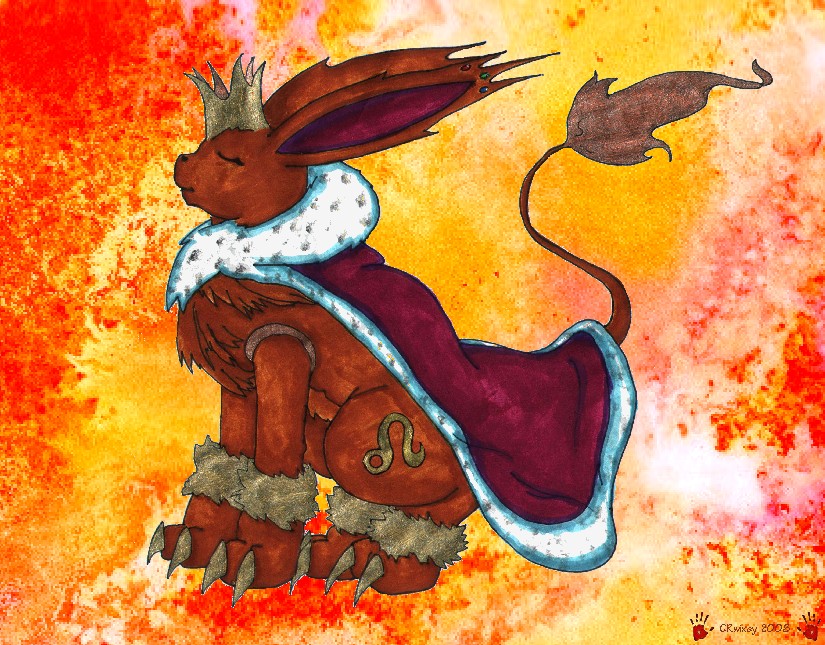 Description
Another Astrologically-themed Eeveelution. This one's based on the fifth sign of the Zodiac, Leo the Lion. Leo is the fixed fire sign, connected with passion, drama and creativity.

Drawn with a 0.3 mechanical pencil, inked with a 0.3 drawing pen, coloured with felt tips and metallic pens. Background added in Microsoft Paint, edited slightly in Microsoft Photo Editor. Comments welcome! :)

*Info*

Name:Leoeon

Attacks: Standard:Scratch, Growl, Ember.
Lv 8 – Charm
Lv 16 – Roar
Lv 23 – Sunny Day
Lv 30 – Fire Fang
Lv 36 – Slash
Lv 42 – Flamethrower
Lv 47 – Lava Plume
Lv 52 – Eruption

Evolution Level:Any; Eevee evolves into Leoeon if it wins five or more contests (any rank).
Evolved Forms:n/a
Location:n/a
Type:Fire.
Description:Brave, majestic and proud, Leoeon love to be the centre of attention. With their natural charisma and warmth they excel at any kind of contest, although some of them don't like to battle much in case their regal-looking fur gets too ruffled. All Leoeons are, to some extent, natural performers and seem to draw friends and admirers from all over the land with their magnetic personalities.
Leoeons tend to be a little lazy, and can exasperate their Trainers if they lose a battle or contest they could have won if they'd put in a bit more effort. Unfortunately, Leoeons can't stand being told what to do, so trying to bribe them with Pokeblocks and Rare Candies doesn't work. If they really want to win in the first place, though, they'll give it everything they've got and will nearly always emerge victorious. Leoeons are also incredibly supportive and generous, and would lay down their life for those they love. You'll need a strong personality to get along with Leoeon, but it's worth it – they can light up the gloomiest environment just by being there.

Pokemon (c) Nintendo/Game Freak.
Leoeon (c) CRwixey.
General Info
Comments
15
Media
Ink or markers
Time Taken
Around 3 hours.
Reference
None.