Caprieon
Caprieon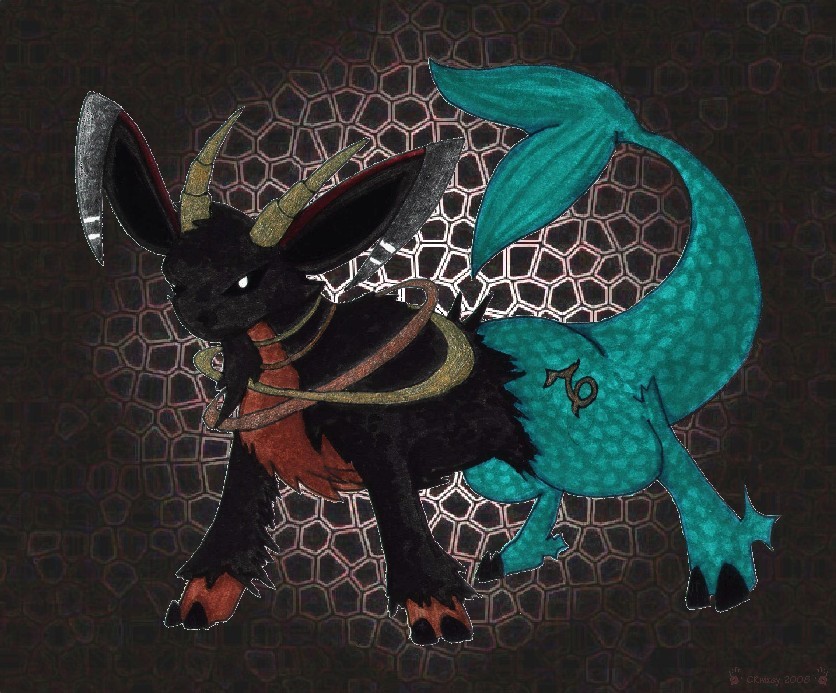 Description
Another Astrologically-themed Eeveelution. This one's based on the tenth sign of the Zodiac, Capricorn the Seagoat. Capricorn is the Cardinal Earth Sign, connected with perseverance, time, practicality and realism.
EDIT: Shortened its name to be in keeping with the Pokemon game's "ten character name limit" rule.
[/color]
Drawn with a 0.3 mechanical pencil, inked with a 0.3 drawing pen, coloured with felt tips and metallic pens. Background added using Microsoft Photo Editor and Microsoft Paint. Comments weclome! :)
*Info*
Name:
Caprieon
Attacks: Standard:
Water Gun, Tackle, Lee.
Lv 8 – Endure
Lv 16 – Magnitude
Lv 23 – Bide
Lv 30 – Headbutt
Lv 36 – Slash
Lv 42 – Aqua Tail
Lv 47 – Earthquake
Lv 52 – Fissure
Evolution Level:
Any; Eevee evolves into Caprieon if it manages to survive – and win – ten or more battles without the use of berries, potions or any hold items.
Evolved Forms:
n/a
Location:
n/a
Type:
Water/Ground.
Description:
Ever been in one of those situations where your one remaining Pokemon has been poisoned, and the Potions compartment of your rucksack is completely empty, and you're stuck in the middle of a cave and left the Escape Ropes at home, and that Trainer over there's just caught your eye and is running over to give you a thrashing with their six-strong team of identical Zubats? Get a Caprieon to help. Once they're focused, absolutely nothing can stop them. When they battle, they don't bother with fancy moves or showy effects; they just wade in and get on with it.
Their combination of dark, coarse fur and rough, scaly tail give them an air of natural authority and presence. Despite their intimidating appearance, Caprieon are extremely warm and affectionate, although you'd wouldn't know it just by looking at them.
Caprieon make tremendously loyal allies and they aren't afraid to work hard if it means achieving the best possible results. Indicated by the scythes on the sides of its ears, Caprieon have an intuitive understanding of the maxim "You reap what you sow".
Pokemon (c) Nintendo/Game Freak.
Caprieon (c) CRwixey.
General Info
Comments
18
Media
Ink or markers
Time Taken
Just over three hours.
Reference
None.