Scorpeon (2)
Scorpeon (2)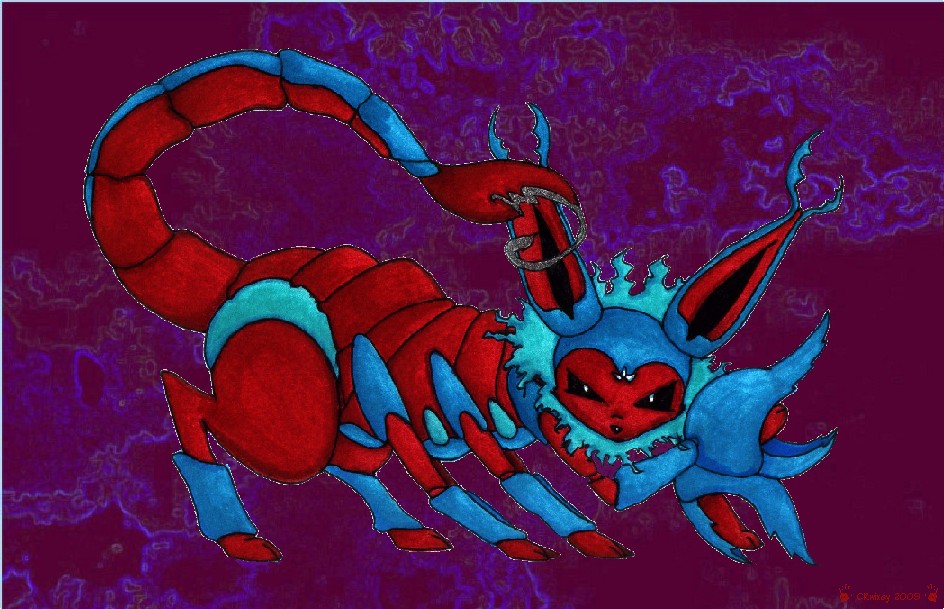 Description
An Astrologically-themed Eeveelution, also a redesign of the original Scorpeon (please see
http://www.fanart-central.net/pic-717313.html
).
This one's based on the eigth sign of the Zodiac, Scorpio (which was orignally depicted as an Eagle, not a Scorpion, but since the Scorpion is more commonly used I'm sticking with that for the moment). Scorpio is the fixed water sign, linked with honesty and integrity, regeneration and transformation, taboos and secrets.
Drawn with a 0.3 mechanical pencil, inked with a 0.3 drawing pen, coloured with felt tips and silver pen. Background added using Microsoft Photo Editor and Microsoft Paint. Comments welcome! :)
*Info*
Name:
Scorpeon
Attacks: Standard:
Poison Sting, Twineedle, Leer.
Lv 8 – Focus Energy
Lv 16 – Vice Grip
Lv 23 – Acupressure
Lv 30 – Crush Claw
Lv 36 – Slash
Lv 42 – Poison Tail
Lv 47 – Cross Chop
Lv 52 – Cross Poison
Evolution Level:
Any (Eevee evolves into Scorpeon if it is hit with only Bug or Poison Type moves five turns in a row).
Evolved Forms:
None.
Location:
n/a
Type:
Bug.
Description:
A deeply misunderstood Pokemon, Scorpeon are nothing like as vindictive and merciless as many Trainers believe them to be. While its true they can cause opponents to curl up and wilt with a single glare, they're incredibly loyal and protective towards those they know and love.
Getting to know a Scorpeon can be difficult as they can be so secretive and guarded, but it's a good bet there's great passion and intensity hidden behind that impassive exterior. In battle they're smart, swift, intense and determined. They detest cheap tactics; as far as they're concerned, honesty is the best policy. For them, a win gained through underhanded means is not really a win at all, but a disgraceful defeat.
Pokemon + all official Eevee evolutions (c) Nintendo/Game Freak.
Scorpeon (c) CRwixey.
General Info
Comments
33
Media
Ink or markers
Time Taken
???
Reference
See above link.