Taureon
Taureon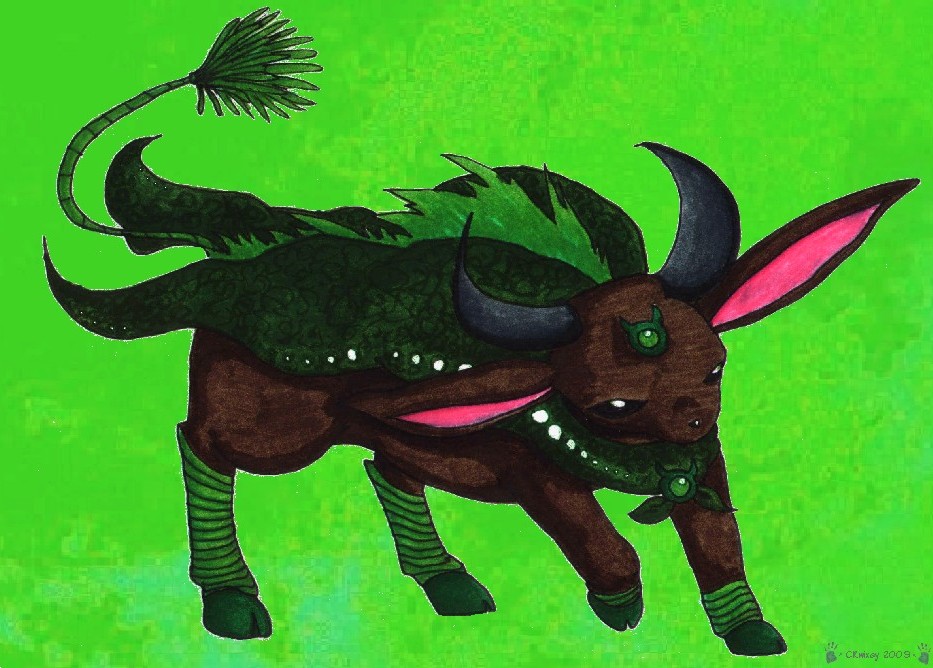 Description
Another Astrologically-themed Eevelution. This one's based on the second sign of the Zodiac, Taurus the Bull. Taurus is the fixed Earth sign, linked with nature, steadfastness and loyalty, material wealth and prosperity.

Drawn with a 0.3 mechanical pencil, inked with a 0.3 drawing pen, coloured with felt tips. Background added using Microsoft Photo Editor and Microsoft Paint. Comments welcome! :)

*Info*

Name:Taureon

Attacks: Standard:Tackle, Tail Whip, Leer.
Lv 8 – Horn Attack
Lv 16 – Stomp
Lv 23 – Headbutt
Lv 30 – Rest
Lv 36 – Thrash
Lv 42 – Zen Headbutt
Lv 47 – Earthquake
Lv 52 – Horn Drill

Evolution Level:Any (Eevee evolves into Taureon if it is hit by Ground Type moves five or more times in a row).
Evolved Forms: n/a
Location:n/a
Type:Ground.
Description:Taureons don't like to be rushed. They prefer to take their time and feel most comfortable when they're steadily working towards a goal. Ethereal yet earthy, Taureons are as renowned for their determination and tenacity as they are for their moodiness.
Taureons appreciate the finer things in life and will never settle for anything less than the best. They have a liking for sumptuous fabrics; the luxurious garments covering their backs are hardwearing but feel as though they were made from plush velvet. Taureon don't always like to battle; they'd much rather stay at home where it's comfortable and secure… but they might be persuaded to go outside if there's a chance to sample some nice juicy berries… Taureons aren't greedy, but when it comes to good food they have insatiable appetites.

Pokemon + all original Eevee evolutions (c) Nintendo/Game Freak.
Taureon (c) CRwixey.
General Info
Comments
13
Media
Ink or markers
Time Taken
Around 3 hours.
Reference
None.