Pisceon
Pisceon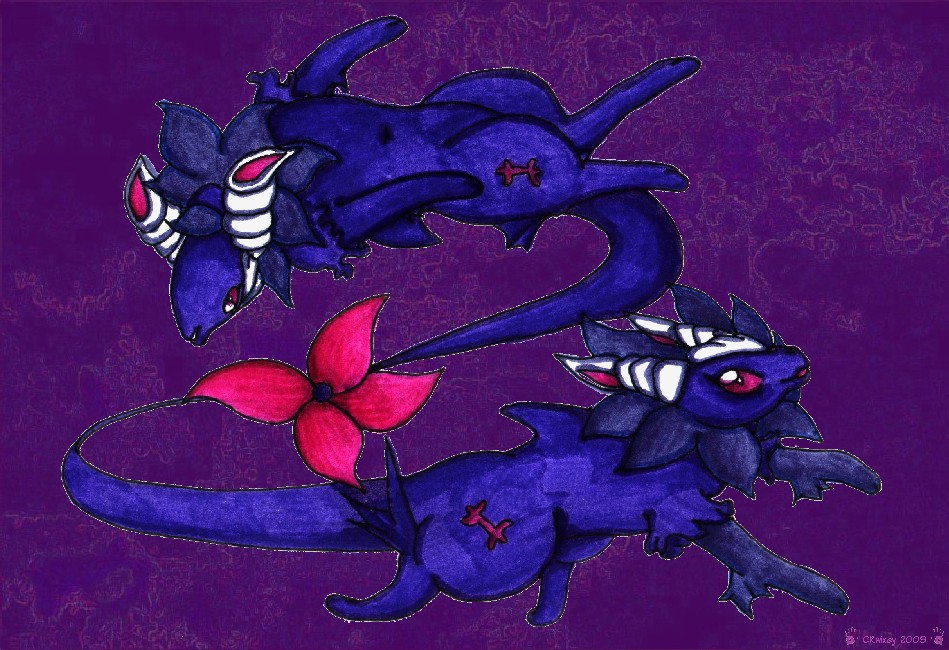 Description
The last of the Astrologically-themed Eeveelutions. This one's based on rhe 12th sign of the Zodiac, Pisces the fishes. Pisces us the Mutable Water sign, connected with sensitivity and receptivity, the psychic realms, dreams and fantasy, poetry and creative arts.

Drawn with a 0.3 mechanical pencil, inked with a 0.3 drawing pen, coloured with felt tips. Background added using Microsoft Photo Editor and Microsoft Paint. Comments welcome! :)

*Info*

Name:Pisceon

Attacks: Standard:Bubble, Tail Whip, Water Sport.
Lv 8 – Safeguard
Lv 16 – Captivate
Lv 23 – Water Pulse
Lv 30 – Light Screen
Lv 36 – Aqua Ring
Lv 42 – Future Sight
Lv 47 – Psychic
Lv 52 – Aqua Tail

Evolution Level:n/a (Eevee evolves into Pisceon if it wins five or more battles while the Trainer is surfing).
Evolved Forms:n/a
Location:n/a
Type:Water/Psychic.
Description:One of the most gentle and sensitive Eeveelutions, Pisceon glide along just below the water's surface, daydreaming, as they watch the world go by. A psychic bond links the pair, and they can communicate with one another telepathically. Picseon tend not to like battles and shy away from violence and confrontation. If they sense danger, they're more inclined to drift as far away from it as possible rather than confront it, although the escapist impulse is stronger in some than others.
Dreamy yet quietly observant, Pisceon use their amazing intuition to "tune into" their surroundings and the energy vibes of people close by, and can often tell a lot about that surrounding or person – especially how they are feeling - from a quick, searching glance. They get on best with empathic Trainers, and despite their occasional tendency towards vagueness, they make loyal and capable partners who would lay down their lives for those they care deeply about.

Pokemon + all original Eevee evolutions (c) Nintendo/Game Freak.
Pisceon (c) CRwixey.
General Info
Comments
10
Media
Ink or markers
Time Taken
Around 2 hours.
Reference
None.