Mariqeon
Mariqeon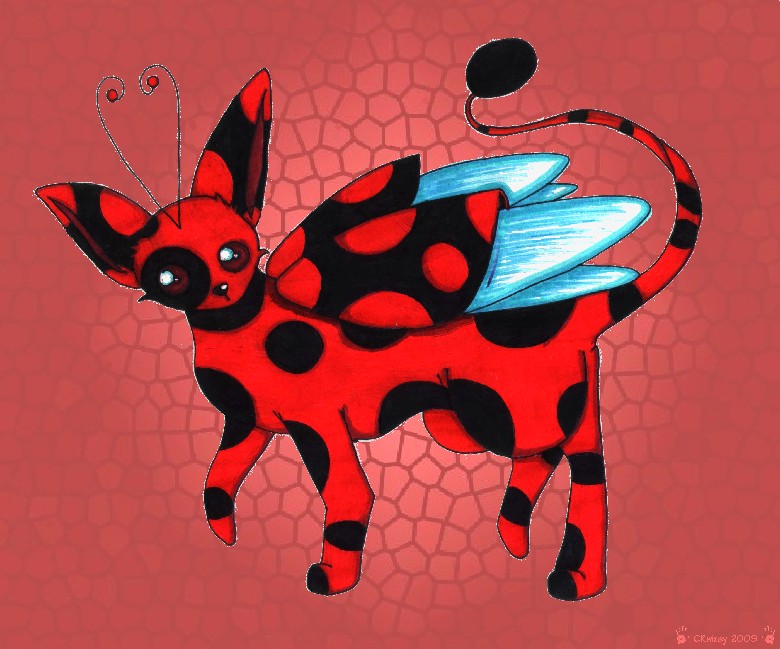 Description
Here's another new Eeveelution. The name's derived from the word Mariquita, Spanish for Ladbybird (or Ladybug).

Drawn with a 0.5 mechanical pencil, inked with a 0.5 drawing pen, coloured with felt tips. Background added using Microsoft Photo Editor and Microsoft Paint. Comments welcome! :)

*Info*

Name:Mariqeon

Attacks: Standard:Tackle, Tail Whip, Safeguard.
Lv 8 – Supersonic
Lv 16 – Protect
Lv 23 – Assist
Lv 30 – Light Screen
Lv 36 – Fly
Lv 42 – Baton Pass
Lv 47 – Silver Wind
Lv 52 – Bug Buzz

Evolution Level:Any (Eevee evolves into Mariqeon if it loves its Trainer, and that Trainer also has a Lediba and a Ledian in their team).
Evolved Forms:n/a
Location:n/a
Type:Bug.
Description:Mariqeon are very gentle creatures. They love to be outdoors, and become depressed if they're cooped up in a Pokeball for too long. Every Mariqeon's shell had a different and completely unique pattern, although one and two-spot varieties are the most common. Very occasionally a Trainer might find a nine-spot variation, but these are extremely rare.
Mariqeon are gardener's best friends, as they gobble up aphids. But Mariqeon love to eat rose petals as well; not surprisingly, they can be a bit of a nuisance in areas like Floaroma Town, where there's lots of flowers and berries to nibble on...

Pokemon (c) Nintendo/Game Freak.
Mariqeon (c) CRwixey.