Vireon
Vireon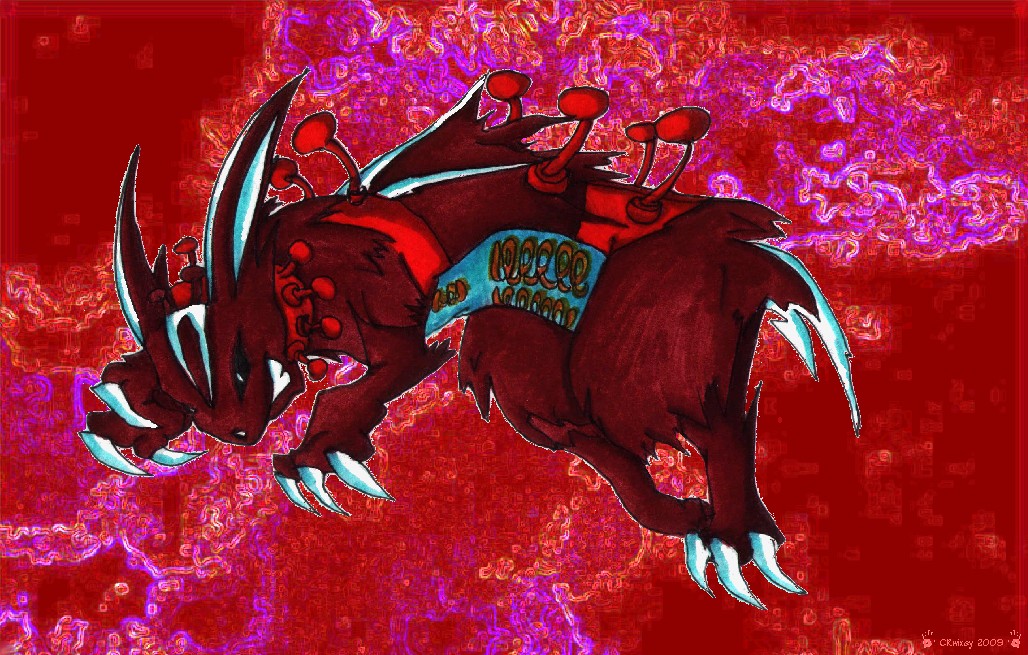 Description
Another new Eeveelution, a Poison Type. The name's derived from the word
virion
, meaning
virus
. The swirly shapes inside it's body are strands of nucleic acid, which make up the virus's structure.
The following pictures were used as references:
http://www.symmation.com/gallery/images/virus-single-particle.jpg
http://www.proteopedia.org/wiki/images/3/3b/3D_Influenza_virus.png
Drawn with a 0.3 mechanical pencil, inked with a 0.3 drawing pen, coloured with felt tips. Background added using Microsoft Photo Ediotr and Microsoft Paint. Comments welcome! :)
*Info*
Name:
Vireon
Attacks: Standard:
Scratch, Leer, Poison Sting.
Lv 8 – Scary Face
Lv 16 – Toxic Spikes
Lv 23 – Poison Fang
Lv 30 – Toxic
Lv 36 – Slash
Lv 42 – Mean Look
Lv 47 – Acid Armour
Lv 52 – Gunk Shot
Evolution Level:
n/a (Eevee evolves into Vireon if it wins five or more battles while it is afflicted with the Toxic move. It must also be holding the Black Sludge item).
Evolved Forms:
n/a
Location:
n/a
Type:
Poison.
Description:
Vireon are particularly nasty Eeveelutions that infects opponents with powerful viruses that damage their cell structures over a prolonged period of time, eventually causing them to with and die. Like Grimer and Muk, they are attracted to heavily polluted areas and enjoy eating toxic sludge. Interestingly, Vireon that have been relocated to very clean environments gradually de-evolve back into ordinary Eevees.
Vireon are wild and uncontrollable creatures with volatile temperaments. So far, Pokemon researchers haven't been able to determine exactly what kind of viruses are contained within Vireon's body, but have discovered they bear a strong resemblance to the influenza virion.
All original Eevee evolutions (c) Nintendo/Game Freak.
Vireon (c) CRwixey.