Wyrmeon
Wyrmeon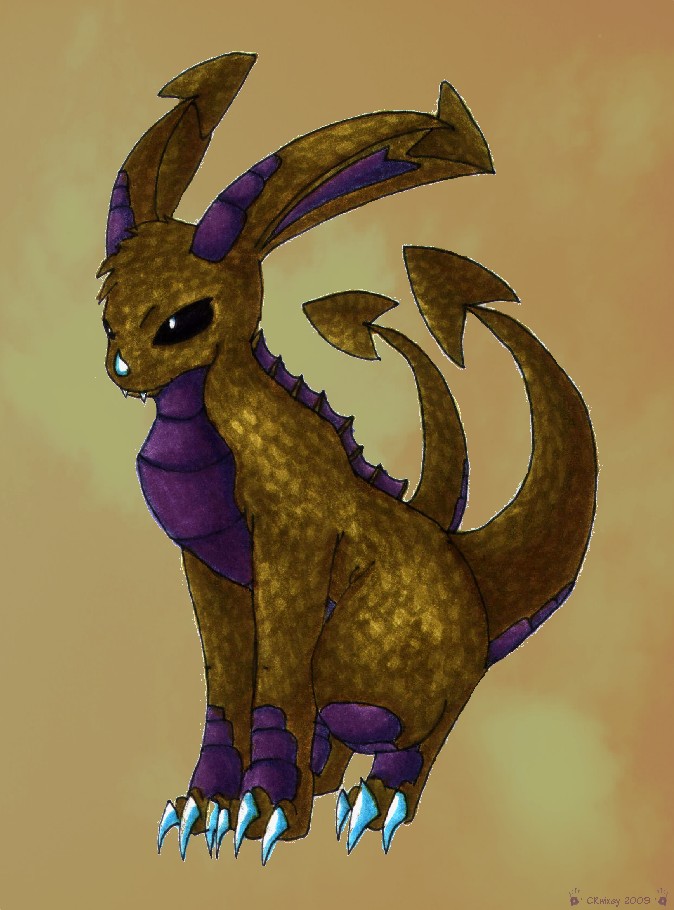 Description
Another new Eeveelution; this one's a Dragon Type. The name's derived from wyrm, a wingless dragon.

Drawn with a 0.5 mechanical pencil, inked with a 0.5 drawing pen, coloured with felt tips. Background added using Microsoft Photo Editor and Microsoft Paint. Comments welcome! :)

*Info*

Name:Wyrmeon
Attacks: Standard:Scratch, Growl, Fury Attack.
Lv 8 – Roar
Lv 16 – Twister
Lv 23 – Dragon Rage
Lv 30 – Dragon Breath
Lv 36 – Dragon Dance
Lv 42 – Dragon Claw
Lv 47 – Flamethrower
Lv 52 – Hyper Beam

Evolution Level:n/a (Eevee evolves into Wyrmeon if it participates in battles against Dratini, Dragonair and Dragonite, in that order).
Evolved Forms:n/a
Location:n/a
Type:Dragon.
Description:Although Wyrmeon can breathe fire, it's a very cool Pokemon, in the original sense of the word – it's noble and dignified and likes to feel it's battling worthwhile opponents. There's quite a lot of variation between Wyrmeon's scale patterns, ranging from deep gold to pale yellow. The same goes for the armoured areas of their body, which can be anything from lilac to crimson.
Wyrmeon are solitary beings at heart and often seem aloof and disinterested in what is going on around them, although they are loyal to those who treat them respectfully. They share a strong rapport with other Dragon Type Pokemon, especially Dragonair and Drakeon, but are not so keen on water-dwelling creatures as they hate getting wet; they also have no wings, and aren't particularly comfortable in the air either. For all their poise and elegance, they feel insecure when their feet aren't on the ground.

All original Eevee evolutions (c) Nintendo/Game Freak.

Wyrmeon (c) CRwixey.