Runeon
Runeon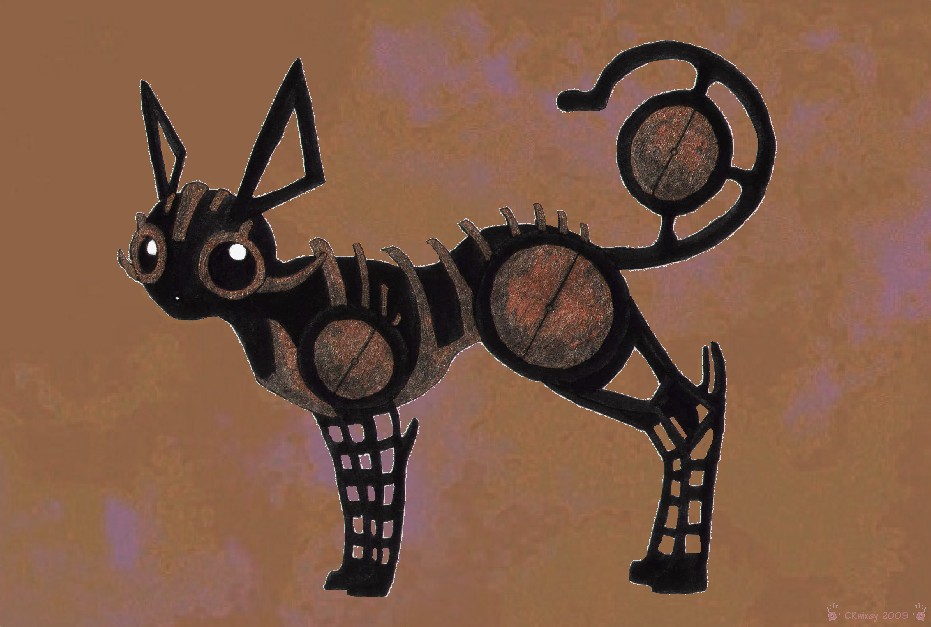 Description
Second to last new Eeveelution... this one's a Psychic Type.

The name's derived from the word rune, refering here to rune stones, a system of divination. The word rune seems to have Anglo-Saxon roots, and means "secret" or "mystery".

Sketched with a 0.3 mechanical pencil, inked with a 0.1 drawing pen, coloured with felt tips and metallic bronze pen. Background added with Microsoft Photo Editor and Microsoft Paint. Comments welcome! :)

*Info*
Name:Runeon
Attacks: Standard:Tackle, Hidden Power, Foresight, Psyche Up.
Lv 8 – Safeguard
Lv 16 – Disable
Lv 23 – Psybeam
Lv 30 – Mind Reader
Lv 36 – Future Sight
Lv 42 – Psychic
Lv 47 – Ancient Power
Lv 52 – Aura Sphere

Evolution Level:n/a (Eevee evolves into Runeon if it levels up whilst holding the Mind Plate item).
Evolved Forms:n/a
Location:n/a
Type:Psychic
Description:The curiously flat, copper-coloured filigree patterns on Runeon's body bear some resemblance to the hieroglyph Pokemon, Unown. It's still uncertain how these creatures might be linked, as Runeon doesn't seem to share many behavioural similarities to Unowns, other than a high-pitched, twittering cry and an unnerving tendency to stare unblinkingly at people.
It is believed that all Runeon are gifted with the "second sight", and are able to psychically impart advice to their Trainers.

Pokemon (c) Nintendo/Game Freak.
Runeon (c) CRwixey.