Mercureon
Mercureon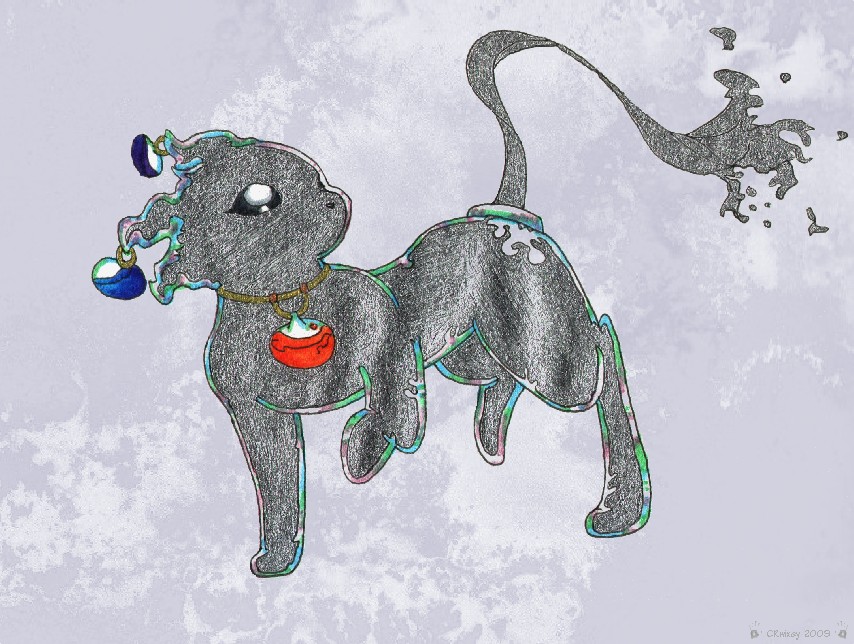 Description
The last of the new Eeveelutions... for now. I might add some more at a later date... this one's a Steel Type, based loosely around the Galileo Thermometer: [url]www.galileo-thermometers.com[/url].

Sketched with a 0.3 mechanical pencil, inked with a 0.1 drawing pen, coloured with felt tips and metallic silver pen. Background added with Microsoft Photo Editor and Microsoft Paint. Comments welcome! :)

*Info*

Name:Mercureon
Attacks: Standard:Quick Attack, Double Team, Reflect, Flash.
Lv 8 – Metal Sound
Lv 16 – Mirror Move
Lv 23 – Swift
Lv 30 – Mirror Shot
Lv 36 – Agility
Lv 42 – Mirror Coat
Lv 47 – Flash Cannon
Lv 52 – Extreme Speed

Evolution Level:n/a (Eevee evolves into Mercureon when traded while holding the Metal Coat item).
Evolved Forms:n/a
Location:n/a
Type:Steel
Description:Super quick and super slippery, Mercureon is one of the fastest Pokemon around. Battling Mercureon is often an infuriating experience; when they're not reflecting opponent's attacks back in their faces, they're busy dodging everything thrown at them instead. Turns out Mercureon aren't very good losers: when defeated, they ooze into a silvery pile on the floor and sulk.
Their mercurial temperaments can make them difficult to work with at times, but they're a great choice for Trainers who love to exasperate their opponents into submission.

Pokemon + all official Eevee evolutions (c) Nintendo/Game Freak.
Mercureon (c) CRwixey.