Takochu
Takochu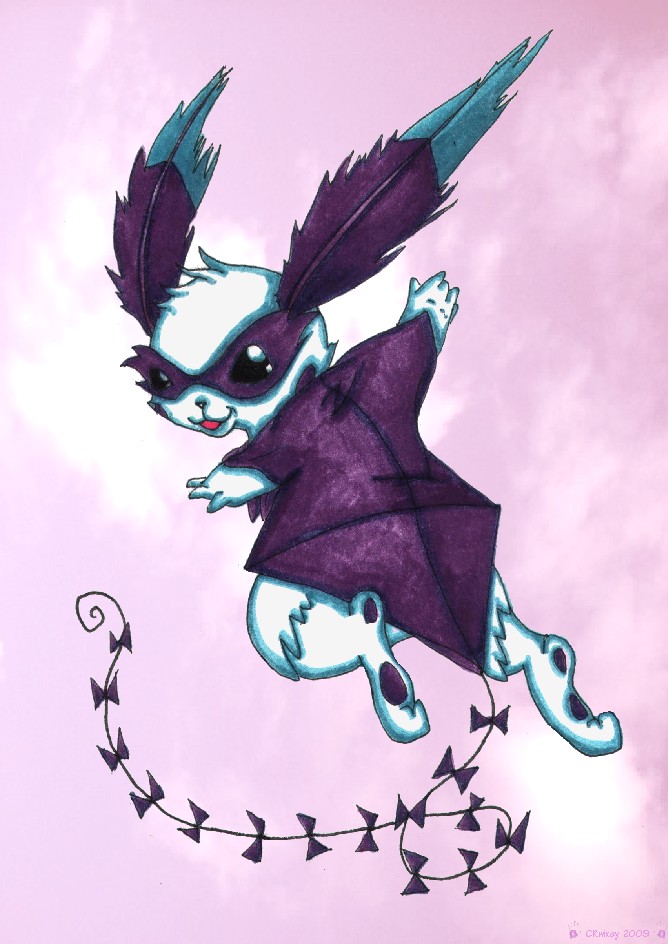 Description
A Flying Type evolution for Pikachu. The name's derived from the word tako, Japanese for kite.

Sketched with a 0;.3 mechanical pencil, inked with a 0.1 drawing pen, coloured with felt tips. Background added with Microsoft Photo Editor and Microsoft Paint. Comments welcome! :)

*Info*

Name:Takochu
Attacks: Standard:Pound, Gust.
Lv 6 – Tail Whip
Lv 8 – Defence Curl
Lv 11 – Tickle
Lv 15 – Double Team
Lv 20 – Air Slash
Lv 25 – Fly
Lv 33 – Featherdance
Lv 41 – Agility
Lv 50 – Sky Attack

Evolution Level:n/a (Pikachu evolves into Takochu if it is traded while holding the Sky Plate item).
Evolved Forms:n/a
Location:n/a
Type:Flying
Description:Kite-shaped Takochu are one of the smallest Pikachu evolutions. They're easy to miss as they zip through the sky like paper darts. So far, 27 different colour variations have been confirmed – including the "shiny" black variety.
Although friendly and gregarious, they hate having their tails tugged, and will squeal loudly if anyone tries. Takochu all have super-sensitive hearing and are find loud noises terrifying. They also need to take extra where they fly, as they're easily blown off course by strong gusts of wind.

Pokemon (c) Nintendo/Game Freak.
Takochu (c) CRwixey.
General Info
Comments
13
Media
Ink or markers
Time Taken
Around two and a half hours.
Reference
None.