Shroomachu
Shroomachu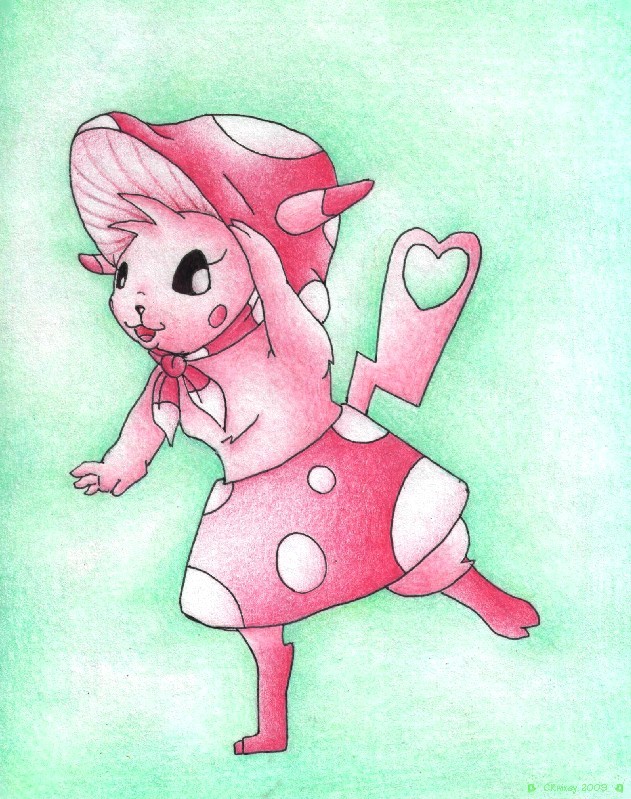 Description
Finally, a new Pikachu evolution...

Sketched with a 0.3 mechanical pencil, inked with a 0.1 drawing pen, coloured with coloured pencils. Comments welcome! :)

*Info*

Name:Shroomachu
Attacks: Standard:Pound, Charm.
Lv 6 – Tail Whip
Lv 8 – Safeguard
Lv 11 – Poison Powder
Lv 15 – Protect
Lv 20 – Spore
Lv 25 – Attract
Lv 33 – Toxic
Lv 41 – Poison Tail
Lv 50 – Sludge Bomb

Evolution Level:n/a: Pikachu evolves into Shroomachu if it levels up while holding the Big Mushroom item (female only).
Evolved Forms:n/a
Location:n/a
Type:Poison
Description:Despite their misleading name, Shroomachu actually have more in common with toadstools; they're highly poisonous and can cause people to suffer powerful hallucinations upon contact.
Although they're Poison types, Trainers tend not to handle Shroomachu with as much caution as they should, because they look and act cute. It's not pretence, either: Shroomachu are genuinely sweet natured, but have an unfortunate tendency to spread clouds of toxic spores from the bonnet-like fungi on top of their heads wherever they go.

Pokemon (c) Nintendo/Game Freak.
Shroomachu (c) CRwixey.
General Info
Comments
17
Media
Colored Pencil / Crayon
Time Taken
Around six hours.
Reference
None.