Coprinachu
Coprinachu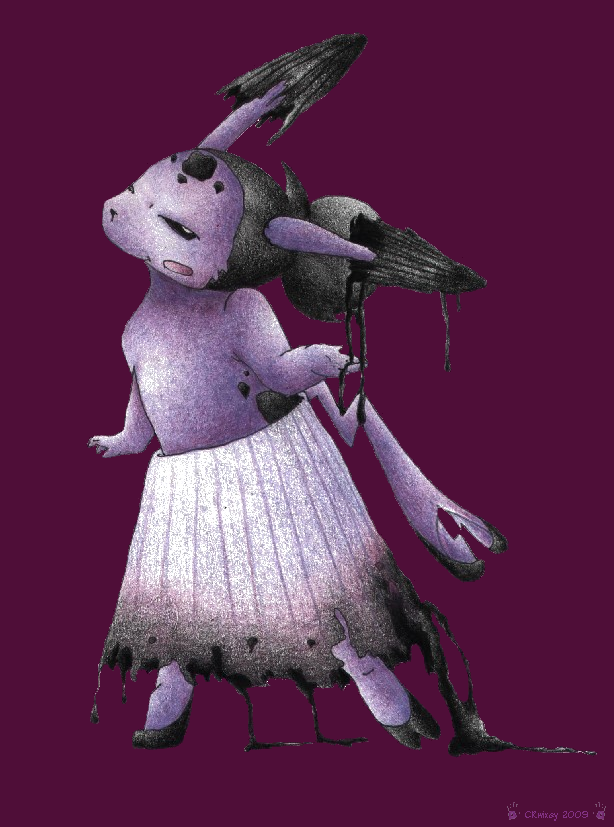 Description
A Dark Type Pikachu evolution. The name's derived from Coprinus comatus, Latin botanical name for the Shaggy Inkcap toadstool, which this character is based on.

Sketched with a 0.3 mechanical pencil, inked with a 0.1 drawing pen, coloured with coloured pencils. Background added with Microsoft Paint. Comments welcome! :)

*Info*

Name:Coprinachu
Attacks: Standard:Scratch, Growl.
Lv 6 – Tail Whip
Lv 8 – Pursuit
Lv 11 – Taunt
Lv 15 – Flatter
Lv 20 – Faint Attack
Lv 25 – Night Shade
Lv 33 – Toxic
Lv 41 – Sludge Bomb
Lv 50 – Dark Pulse

Evolution Level:n/a: Pikachu evolves into Coprinachu if it levels up while holding the Black Sludge item (female only).
Evolved Forms:n/a
Location:n/a
Type:Dark
Description: A thoroughly repulsive breed of Pikachu, notable for their love of inflicting pain and suffering on all who cross their path. Snide and cunning, they spend most of their time alone, in the creepiest woodland areas.
Despite their preference for solitude, Coprinachu are easily to detect, as the decaying gills on the inside of their toadstool-like ears give off an appalling odour; it smells worse than Grimer and Muk combined.

Pokemon (c) Nintendo/Game Freak.
Coprinachu (c) CRwixey.
General Info
Comments
15
Media
Colored Pencil / Crayon
Time Taken
Around five hours.
Reference
None.