The Guide
The Guide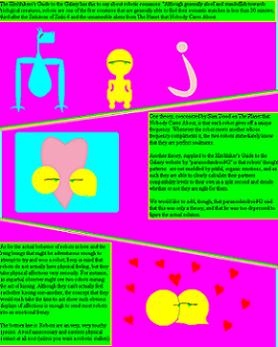 Description
MAN, YOU DO NOT KNOW WHAT I HAD TO GO THROUGH TO GET THIS PICTURE ON THE WEB! Jeez!... Anyway:<br />
<br />
1st panel: "The Hitchhiker's Guide to the Galaxy has this to say about robotic romances: 'Although generally aloof and standoffish towards biological creatures, robots are one of the few creatures who are generally able to find their romantic matches in less than 20 minutes, third after the Zinkitons of Zinki 4 and the unnameable aliens from The Planet that Nobody Cares About.'"<br />
2nd panel: "One theory, concocted by Sum Dood of The Planet that Nobody Cares About, is that each robot gives of a unique electric frequency. Whenever the robot meets another whose frequency compliments its own, the two robots immediately know that they are perfect soulmates.<br />
"Another theory, supplied by the Hitchhiker's Guide to the Galaxy website by 'paranoidandroid42', is that robot thought patterns are not clouded by 'depressingly pitiful organic emotions', and as such they are clearly able to calculate their partners compatibility levels in a split second and decided whether or not they are right for them.<br />
"We would like to add, however, that this is only a theory, as paranoidandroid42 said he was too depressed to figure out the actual solution."<br />
3rd panel: "As for the behavior of robots in love and the adventurous organic beings that might attempt to try and woo a robot, keep in mind that robots do not actually have physical feeling as we do, but take physical affections very seriously. For example, an impartial observer might witness two robots miming the act of kissing. Although they cannot actually feel eachother kissing one-another, the fact that they would take the time to act out such an obvious display of affection is enough to send most robots into an emotional frenzy.<br />
"The bottom line is: Robots are a very, very touchy species. Avoid unnecessary and careless physical contact at all costs (unless you want a robotic stalker)."<br />
<br />
And that's a guide entry.