Original: The Lady of the Sun
Original: The Lady of the Sun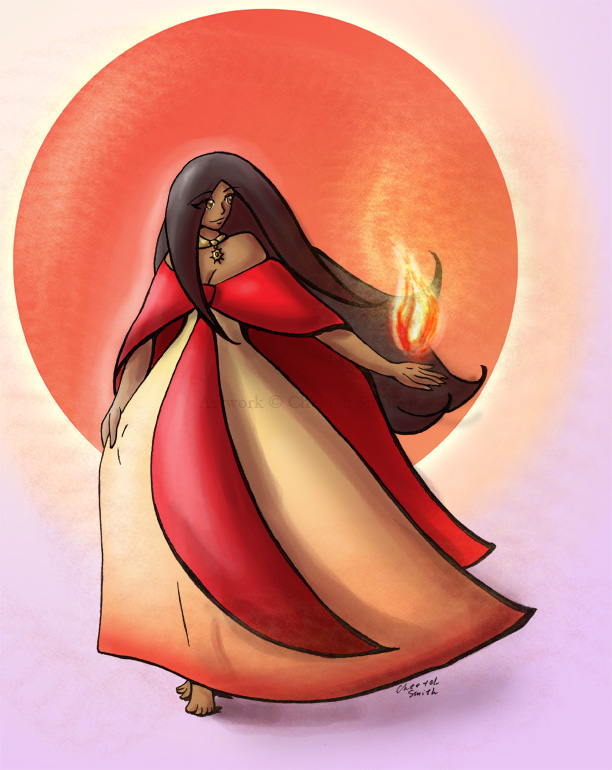 Description
The living essence of the Sun, who has been around as long as the Earth itself, and the lover to the Lord of the Moon. Her light shines during the day, rising in the East at the dawn's first light, and setting in the West at twilight's first hour. Her light brings warmth, comfort and life to the people of the world, and no day is ever without a ray of sunshine. Gentle, calm and sensible, her compassion is knows not of limits.

Another character of my own creation, based off the concept of celestial bodies being sentient god-like beings. She's also a character of a short story of mine.

On an artistic note, this was also based loosely off a short story I wrote, carrying the idea that the Earth, Sun and Moon were sentient beings of whom come into contact with the Star Witch (from one of my earlier works). Since I happened to like the story arc, characters and universe that I created, I'm expanding it. The piece itself is meant to be the opposite of the Lord of the Moon, so lots of warm reds, oranges, yellows and some violets were used. As well as lots of shiny things! XD

Artwork and Character © to Cheetah Smith. Please do not take, use or redistribute without permission.
General Info
Comments
1
Media
Digital drawing or painting
Time Taken
Reference