Smooch! (spoiler)
Smooch! (spoiler)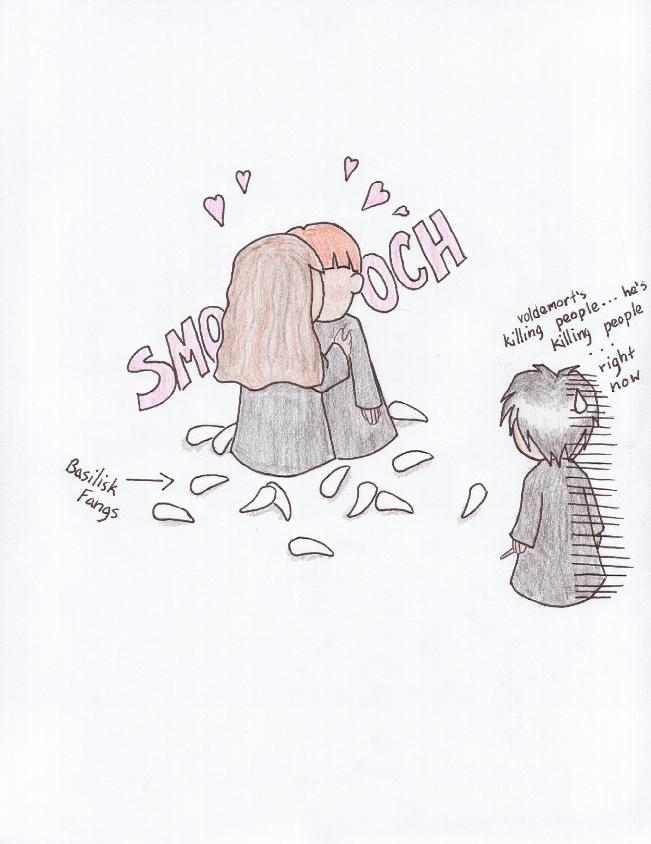 Description
I had the sudden urge to draw a Harry Potter fanart. Deciding what to draw was sort of hard. I just knew I wanted it to be cute and sort of funny.
In the end I settled on making the part when Ron and Hermione FINALLY kiss in the seventh book. Now... i drew it like this to make it sort of funny, that was my intention. 
 

I am aware, though, that this drawing is not exactly like the actual moment in the book.I do know that Ron had also been holding a broomstick, which he had dropped with the basilisk fangs. But I thought it would have looked weird with a random broom stick on the floor among the fangs, so I left that out. I am also aware that what Harry is saying is not what he said in the book, but I'm sure that's what he was thinking. Even though, technically. Voldemort wasn't the one killing people, the Death Eaters were, but whatever... lol.
General Info
Comments
4
Media
Ink or markers
Time Taken
not long
Reference
none